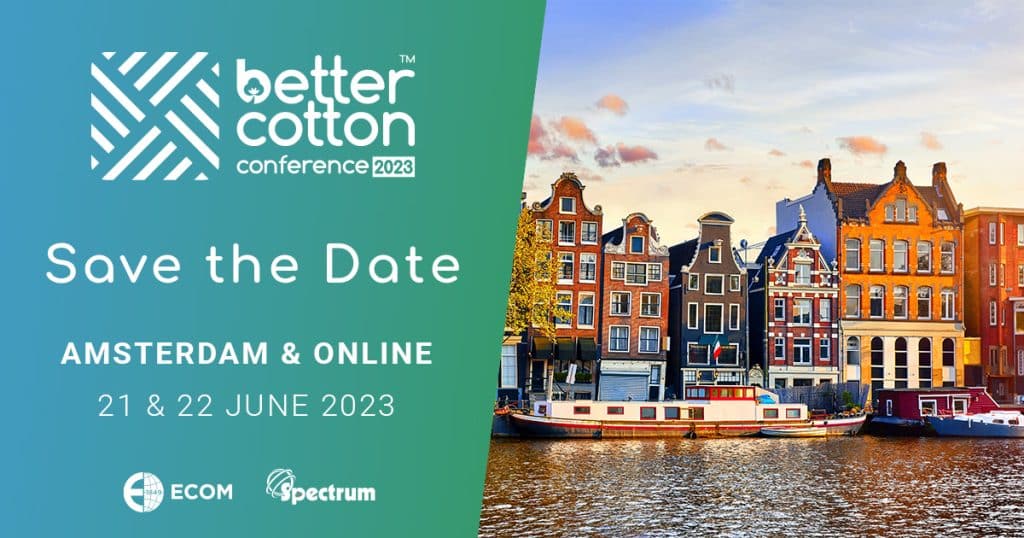 Better Cotton is pleased to announce that we will host our 2023 Better Cotton Conference in Amsterdam, Netherlands as well as online on 21 and 22 June.
The conference will help to drive our ambitious mission and strategic direction onward whilst highlighting the important work and perspectives of others working on the same issues.
Attendees will have the opportunity to connect with industry leaders and experts to explore the most salient issues in sustainable cotton production such as climate change adaptation and mitigation, traceability, livelihoods and regenerative agriculture. In addition, we're delighted to invite members to attend an Annual Member Meeting which we will host during the conference.
Save 21-22 June 2023 in your calendars to join the Better Cotton community at this major event for stakeholders in the sustainable cotton sector.
A huge thank you to our 2023 sponsors, ECOM and Spectrum. We have a variety of sponsorship packages available, please contact [email protected] to find out more.
---
2023 Sponsors

---
Read more