Where is Better Cotton Grown?
AFRICA (CMIA) | AUSTRALIA (MyBMP) | BRAZIL (ABR) | CHINA | INDIA | ISRAEL | KAZAKHSTAN | MADAGASCAR | MALI | MOZAMBIQUE | PAKISTAN | SOUTH AFRICA | TAJIKISTAN | TURKEY | USA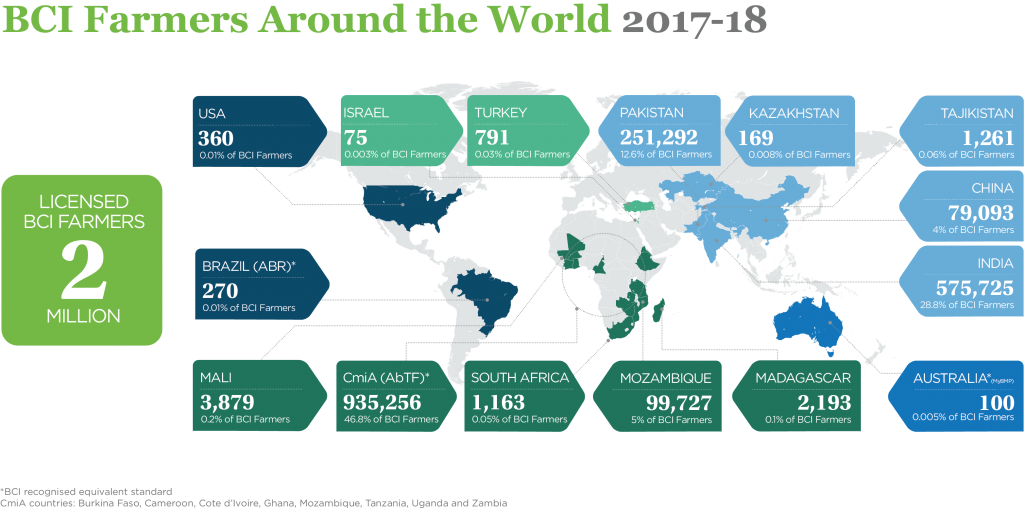 In the 2017-2018 cotton season, 2 million BCI Farmers across 21 countries produced 5.1 million metric tonnes of Better Cotton lint, accounting for 19% of global cotton production.
The international cotton season runs from August to July. In the northern hemisphere, the harvest was completed in 2017, and in the southern hemisphere the harvest was completed in 2018.
Through a successful benchmarking process, as of April 2018, the following standards are recognised by BCI as being equivalent to the Better Cotton Standard System: myBMP (My Best Management Practice) in Australia, ABRAPA (Associação Brasileira dos Produtores de Algodão) in Brazil, 'Cotton made in Africa' (CmiA) and 'Smallholder Cotton Standard' (SCS) of Aid by Trade Foundation (AbTF). CmiA and SCS are benchmarked with BCI in specific countries in Africa; more information can be found here.
With the support of over 65 partners, we are on track to achieve our 2020 goal to reach and train 5 million cotton farmers and produce 30% of global cotton as Better Cotton. Our partners deliver field-level capacity building programmes that help farmers understand and apply the Better Cotton Principles and Criteria, improve the sustainability of their farms and gain a Better Cotton license. These licenses enable farmers to sell their cotton as Better Cotton, increasing the supply of more sustainable cotton in the global market, and linking farmers with a growing demand for more sustainable raw materials.
Partners also implement continuous improvement plans, identify opportunities for innovation and collect the field level data we use to monitor and evaluate our work. We also work with certain existing national sustainability standards to allow farmers already adhering to those standards to sell their cotton as Better Cotton.
To learn more about key environmental, economic and social indicators achieved by BCI Farmers, please refer to the BCI Farmer Results.