Where is Better Cotton Grown?
Better Cotton is grown across the globe. In the 2018-2019 cotton season, 2.1 million licensed BCI Farmers across 23 countries produced 5.6 million tonnes of Better Cotton lint – that equates to 22% of global cotton production. Use the links below to find out more about production of Better Cotton in a particular country.
AFRICA (CMIA) | AUSTRALIA (MyBMP) | BRAZIL (ABR) | CHINA | EGYPT | INDIA | ISRAEL | KAZAKHSTAN | MADAGASCAR | MALI | MOZAMBIQUE | PAKISTAN | SOUTH AFRICA | TAJIKISTAN | TURKEY | USA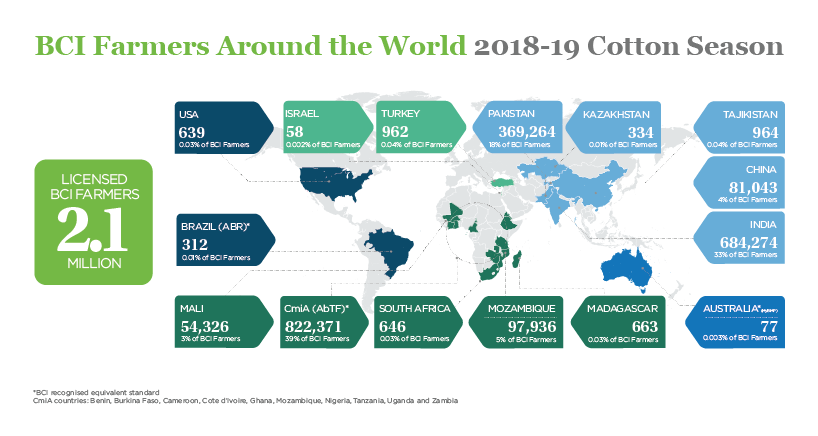 Find out about the successes, challenges and key changes that happened in the 2018-19 cotton season in our new Better Cotton Country Snapshots. The international cotton season runs from August to July. In the northern hemisphere, the harvest was completed in 2018, and in the southern hemisphere the harvest was completed in 2019.
How Does BCI Reach Millions of Farmers?
BCI works with on-the-ground Implementing Partners with local knowledge and expertise, and a strong understanding of farmers' challenges. Partners can be civil society organisations, NGOs, private sector entities, government agencies or foundations. They help cotton farmers to develop the skills and knowledge to meet and continuously improve their performance against the Better Cotton Principles and Criteria, improve the sustainability of their farms and gain a BCI license. Once licensed, farmers are able to sell their cotton as Better Cotton, increasing the supply of more sustainable cotton available on the global market, and linking farmers with a growing demand for more sustainable raw materials.
To learn more about key environmental, economic and social outcomes achieved by BCI Farmers, please refer to the BCI Farmer Results.
BCI invests in strengthening our partners' ability to deliver effective training, in order to provide the best possible support to farmers and help maximise positive change in the field. Together, we are steadily raising the quality of farmer training, helping to ensure consistency and quality across programme countries. In the 2018-19 cotton season, BCI worked with 76 on-the-ground partners. You can find a list of our current partners here.
Equivalent Standards
The following cotton standards are recognised by BCI as equivalent to the Better Cotton Standard System: myBMP managed by Cotton Australia in Australia; ABR managed by Associação Brasileira dos Produtores de Algodão (ABRAPA) in Brazil; and Cotton made in Africa (CmiA) and Smallholder Cotton Standard (SCS) managed by Aid by Trade Foundation (AbTF) across multiple African countries. Farmers growing cotton to these standards can also sell their cotton as Better Cotton.