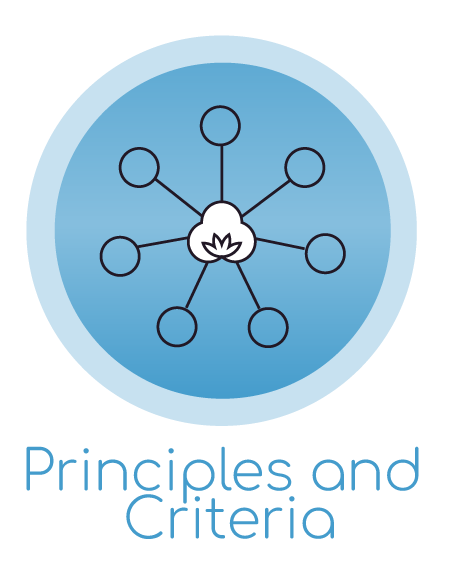 At Better Cotton, we believe in continuous improvement – not only for Better Cotton Farmers, but for ourselves as well. In line with codes of good practices for voluntary standards, we periodically review our farm-level standard – the Better Cotton Principles & Criteria (P&C). This helps to ensure we keep up with innovative agricultural and social practices, and the latest scientific and technological research.
Revisions of the Standard also take into account lessons learned from implementation and evaluation of the earlier versions of the Standard. The original six Better Cotton Principles and associated criteria were first published in 2010, and went under a first formal revision process in 2017 and an additional Principle was added. See the current Principles.
Opportunities to Contribute
Public Consultations
Between 28 July and 30 September 2022, Better Cotton ran a Public Stakeholder Consultation on the draft text of the new Principles & Criteria. The Consultation included a variety of online and offline activities at local and global level.
We would like to thank all stakeholders who participated in the consultation for their valuable input.
A summary of the feedback received during the Consultation is available here.
An anonymised version of all comments received can be provided upon request. For more information, please contact [email protected]
If you would like to be kept up to date with the revision process, or contribute to the public consultation process, please submit your email address below. Better Cotton Members do not need to sign up here – members will receive regular updates.
Sign up to receive updates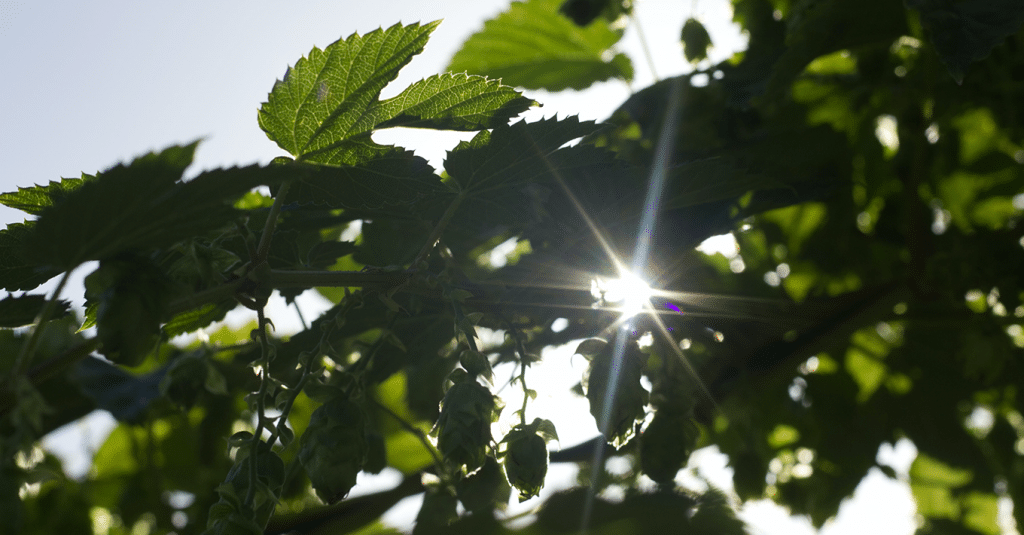 2021-2023 Revision
We are now undergoing another revision process, with the aim of strengthening the Better Cotton Principles & Criteria (P&Cs) to ensure they continue to meet best practice, are effective and locally relevant, and align with Better Cotton's 2030 Strategy.
Over the last five years, we have seen increasing focus on areas such as climate change, decent work, and soil health, and the P&C revision is an opportunity to ensure the Standard aligns with leading practice and supports our ambitions to drive field-level change.
Stakeholder feedback on the current P&Cs also indicates that while the seven Principles remain broadly relevant and effective, there are a number of opportunities to make specific requirements more locally-relevant; for example around areas such as soil testing, and biodiversity and water mapping. These focus areas and others will be further explored with stakeholders once the revision process gets underway.
Webinar: Learn More
On 2 August, we hosted a public webinar for the launch of the Public Stakeholder Consultation. We shared details about the main changes between the current Principles & Criteria and the proposed draft, and information about how to participate in our global online survey.
If you missed the live session, you can catch up below. The webinar includes:
An introduction to the Principles & Criteria revision process, including: rationale, timeline, governance, and decision making.
Overview of high-level key changes by thematic area.
A guided tour of our survey platform.
---
Standards Committee and Working Groups
The P&C revision process is being supported by three technical working groups, who will work closely with us to revise the current indicators. These groups of subject experts, appointed by the Better Cotton Standards Team and Better Cotton Council representatives, will help draft revised indicators and guidance, review stakeholder feedback, and adjust the draft content based on this feedback.
Meet the working group members below.
In addition to the three working groups, we have appointed a Standards Committee.
---
Timeline and Governance
The P&C revision launched in October 2021 and is expected to run until Q2 2023. The public consultation period will take place between 28 July and 30 September 2022. Further changes to the draft will be made based on public consultation input. The P&C v3.0 is expected to be launched in the first half of 2023, followed by a transition year, and come fully into effect as of season 2024-25. This preliminary timeline is subject to change based on the scope and nature of stakeholder feedback.
The P&C revision will follow ISEAL's Standard-Setting Code of Good Practice v6.0, which sets out best practice guidelines to develop or revise sustainability standards. The project will be overseen by a multi-stakeholder Standards Committee, comprised of dedicated technical experts and representatives from Better Cotton's Council and membership base. Final approval of the revised P&C is the responsibility of the Better Cotton Council. In accordance with ISEAL's Standard-Setting Code of Good Practice v6.0, Better Cotton will compile all comments received during the consultation period and write a synopsis of how issues have been addressed in the standard revision to be made publicly available. Original comments will be available upon request, in an anonymised form. Record of the standard revision will be kept on file for at least five years and will be made available to stakeholders upon request, as per ISEAL requirements. For further information, please refer to clauses 5.4 and 5.10 of ISEAL's document.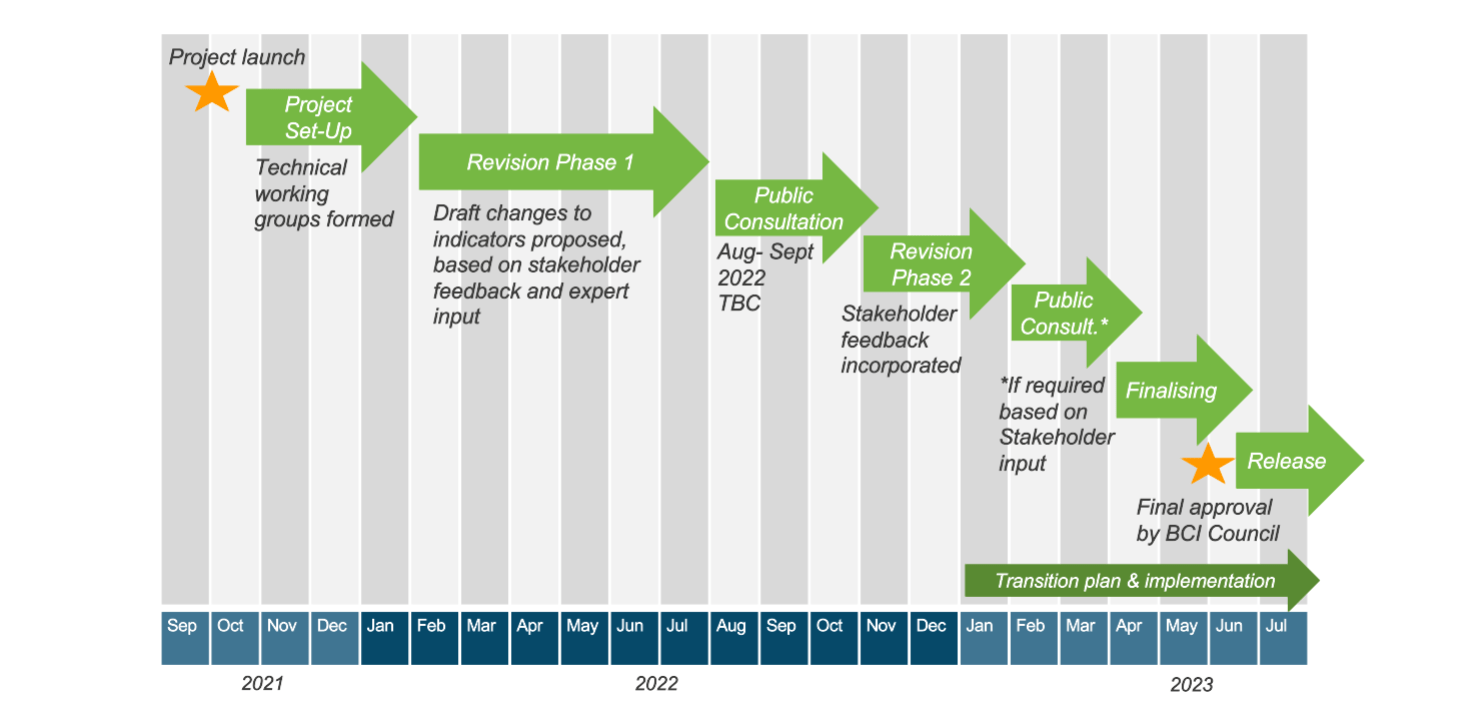 ---
Key Documents
Standard Setting and Revision Procedure v2.0
Download
Standards Committee Terms of Reference
Download
---
Contact Us
If you have any questions, or would like to learn more about the revision, please contact the Standards Team.
If you would like to be kept up to date with the revision process, please submit your email address below. Better Cotton Members do not need to sign up here – members will receive regular updates.