Better Cotton is committed to measuring sustainability improvements everywhere Better Cotton is produced and to evaluating the environmental, social, and economic impact of the Better Cotton Standard System.
Better Cotton uses complementary research and evaluation methods and works with independent organisations and researchers to assess field-level impacts. This diversity of approaches is necessary to effectively measure results and impact both at scale and in depth. Click on the infographic, or scroll down to read more about our approach.
You can also learn more about the outcomes and impacts of the Better Cotton programme in our latest Impact Report.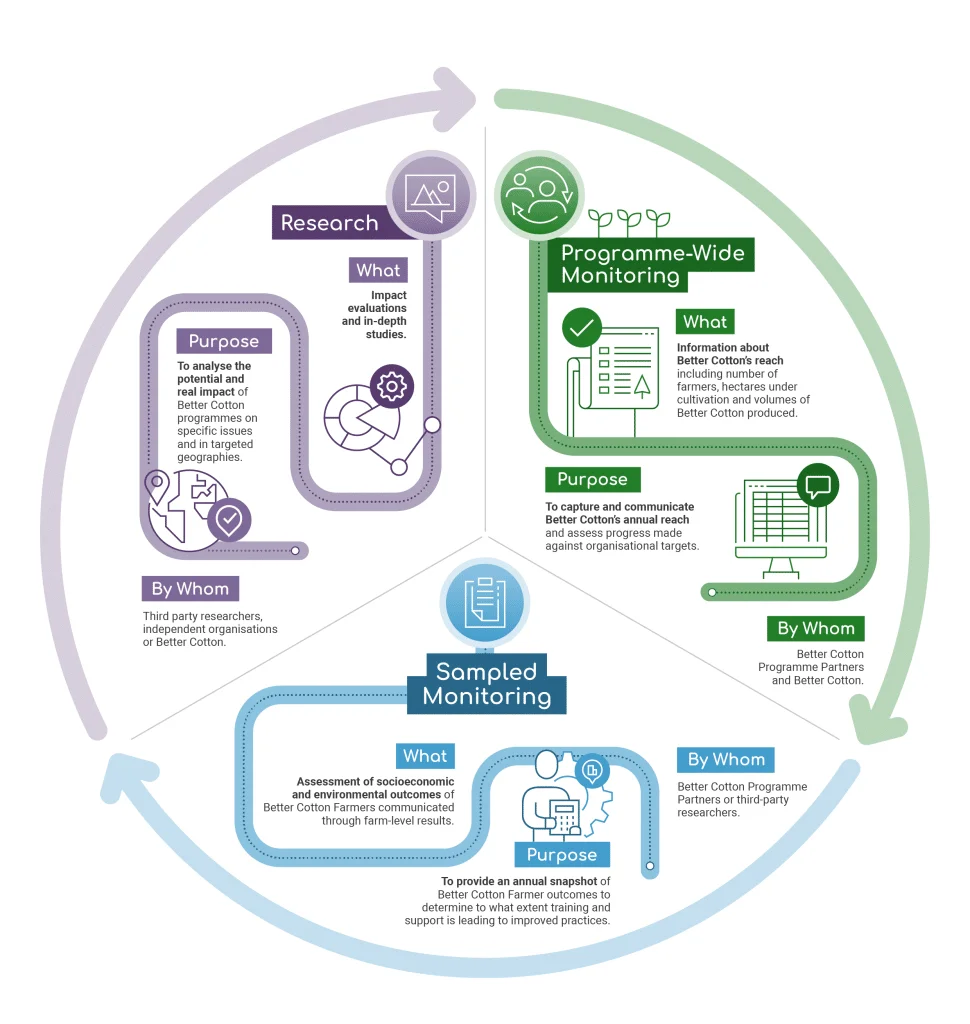 Independent Research and Evaluation
Better Cotton commissions independent studies to collect data from samples of Better Cotton Farmers and non-Better Cotton Farmers. The findings of these studies are then compared to the Results Indicator Data reported by farmers and used to check general directional similarities in results. The research projects can also provide an opportunity to gather qualitative information about the Better Cotton experience directly from farmers, hearing in their own words how they feel that Better Cotton is driving change.
Qualitative Outcome Information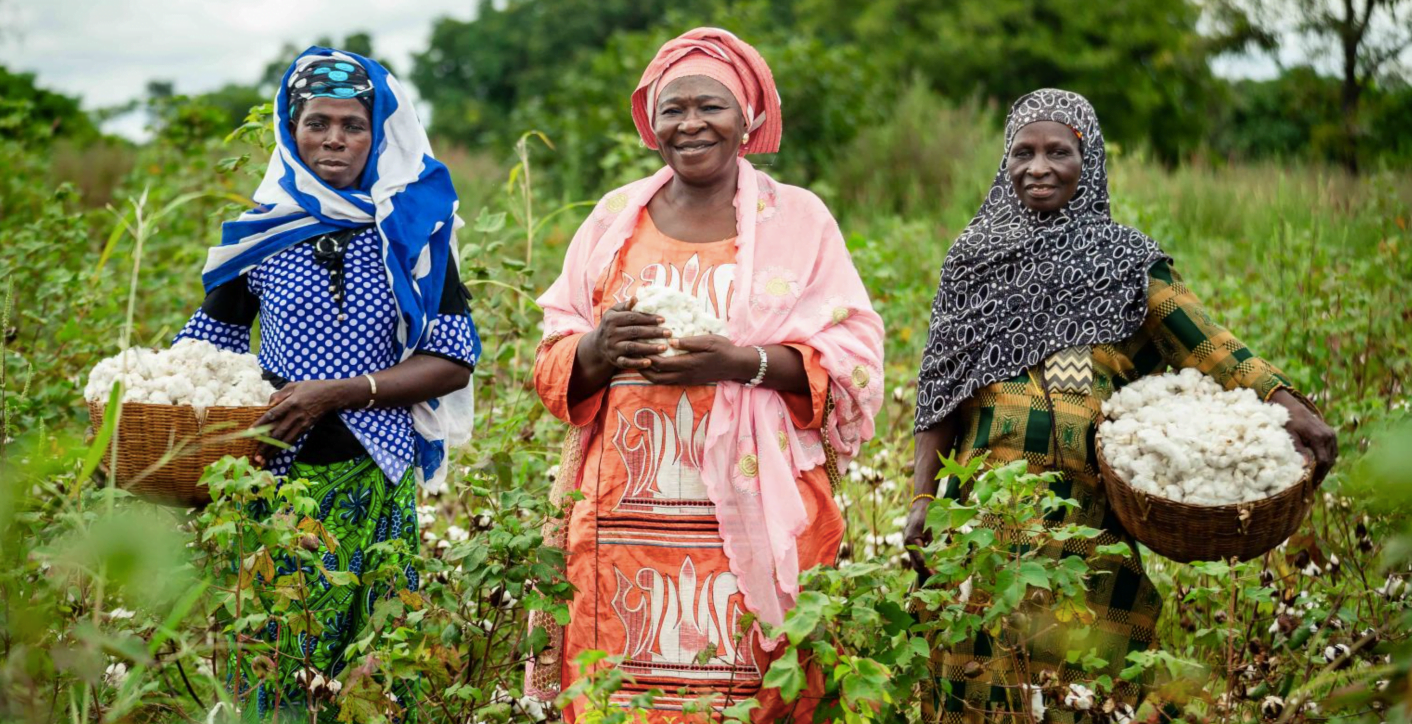 Stories from the Field
Learn more about the outcomes and impacts farming communities are
experiencing by participating in the Better Cotton programme.
Industry-Wide and Other Collaborations
We also participate in and lead industry-wide initiatives and collaborations on impact.
Delta Framework
The Delta Framework project focuses on producing a clear, consistent way to measure and report the progress of farms participating in individual sustainable commodity certification schemes. The Delta Framework features a common set of environmental, social, and economic indicators to measure sustainability across the cotton and coffee commodity sectors.
Sustainable Apparel Coalition
Better Cotton has been an Affiliate Member of the Sustainable Apparel Coalition (SAC) since 2013, and as a member, we commit to adopt and support its vision and mission. We share a common journey as we endeavour to create positive change for people and the planet. We work tirelessly to ensure that the Higg Index performance improvements robustly and factually reflect the environmental performance of Better Cotton as a raw material.
Gold Standard
The Gold Standard sets the standard for climate and development interventions to quantify, certify and maximise their impact. Better Cotton partnered with The Gold Standard to help define common practices to calculate carbon reductions and sequestration, that companies can then easily report against their Science Based Targets or other climate performance objectives.
SEEP
Better Cotton's CEO Alan McClay sits on the International Cotton Advisory Committee's expert panel on Social, Environmental & Economic Performance (SEEP). Members collaborate to provide the ICAC with objective, science-based information on the positive and negative social, environmental and economic aspects of global cotton production.
Policy on Communicating Data
We are committed to ensuring that credible data demonstrating progress and results is communicated to our members, partners, funders, farmers, and the public. The reputation of Better Cotton rests in large part with the credibility of its data. Data is therefore provided at strategic moments throughout the cotton production cycle to allow actors engaged in the Better Cotton network to effectively use and learn from it. Better Cotton's Policy on Communicating Data specifically addresses:
Types of data about which Better Cotton communicates
The rationale for any limitations on data use
When and how data is made available by Better Cotton
Better Cotton Policy on Communicating Data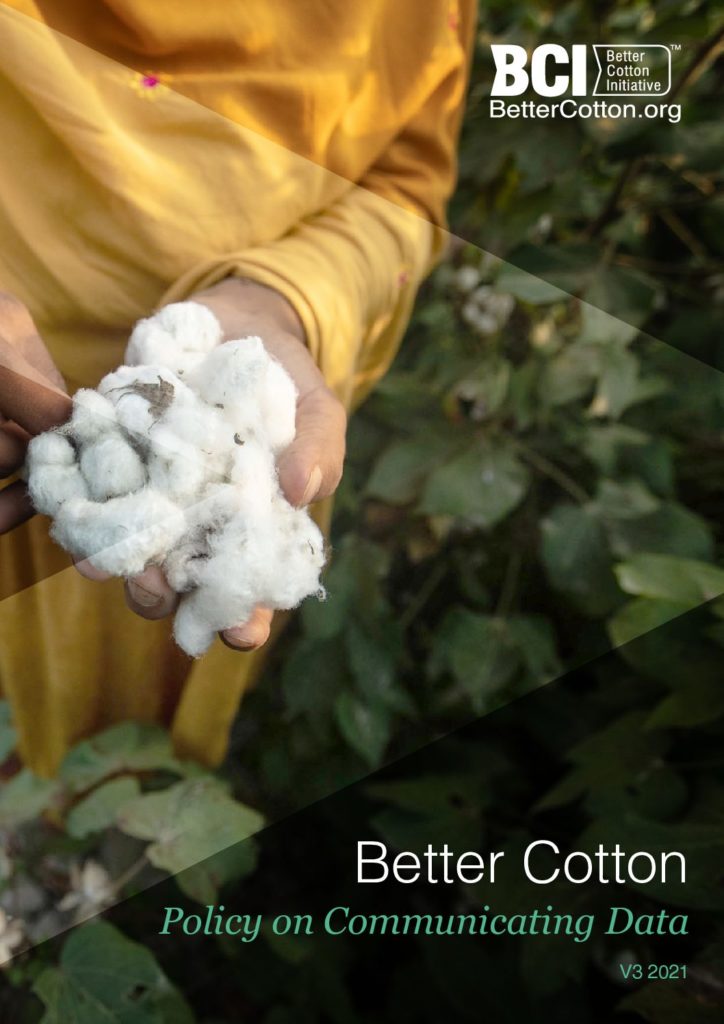 This policy is aimed at Better Cotton staff, members, partners, and funders. It refers to the periodic communication of data by Better Cotton
Download
Working with Results Indicators
Reporting on Results Indicators is fully integrated into the Better Cotton Assurance Programme to ensure that sustainability improvements are adequately measured everywhere Better Cotton is produced.
This document provides guidance on the required methodologies to use for Results Indicator Data collection and sampling. It also presents what measures are regularly taken to ensure data is credible, how Better Cotton analyses Results Indicator Data, and what information is shared back to partners for learning purposes.
Working With Results Indicators v2.5
Download
For any enquiries, please use our contact form.