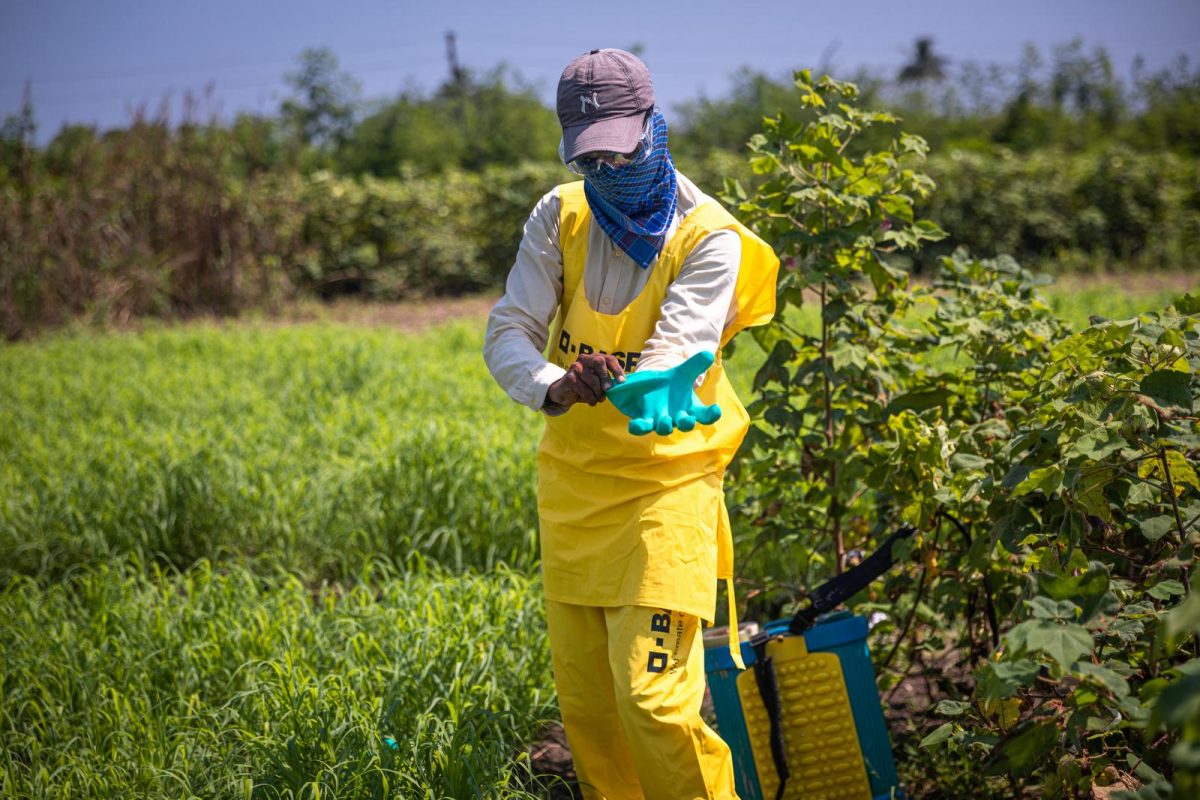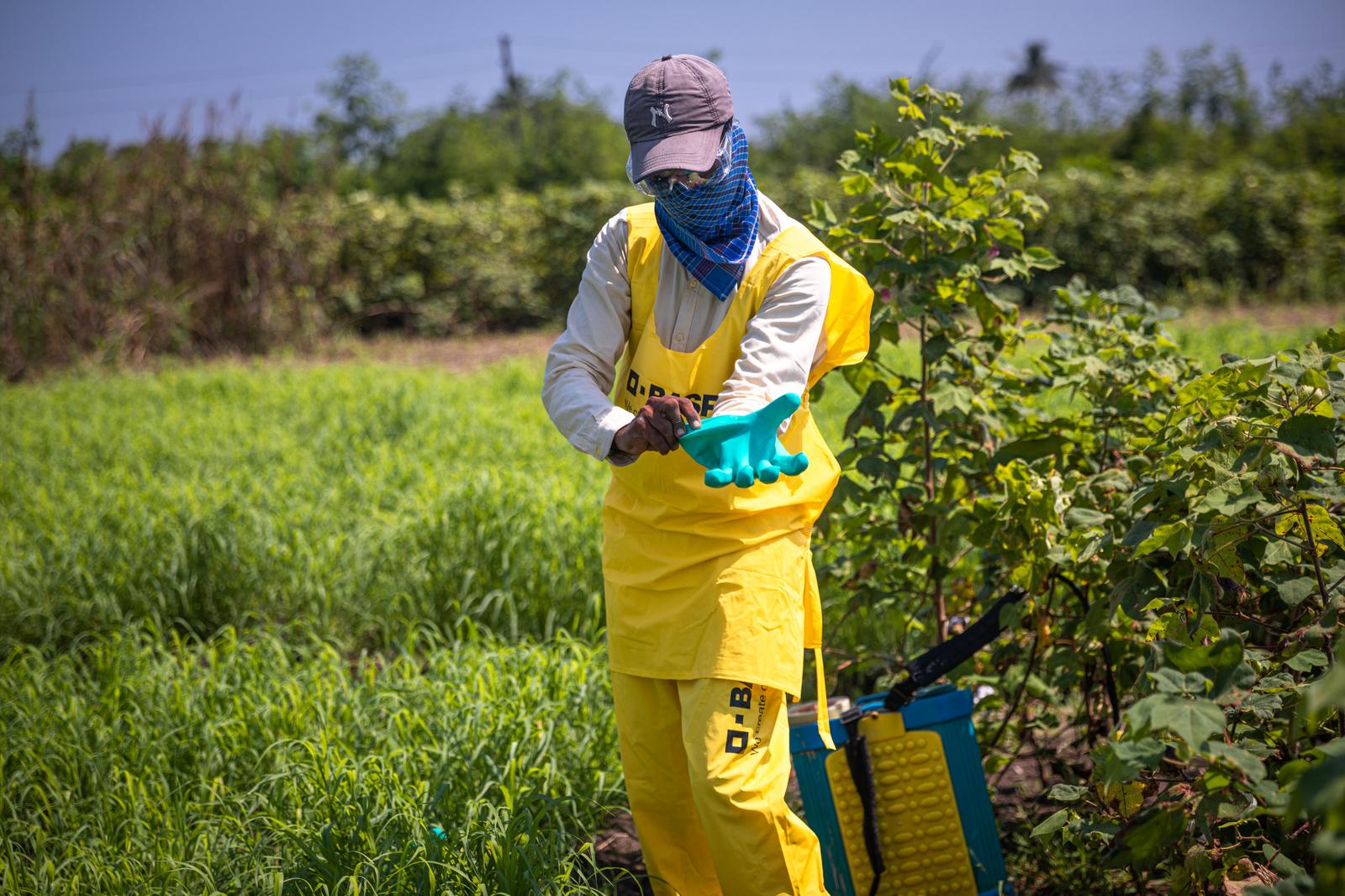 Pesticides are the main form of crop protection used around the world. While they serve a vital purpose in controlling pests and safeguarding yields, their negative consequences are not to be taken lightly.
Cotton farming accounts for 4.7% of the world's pesticide and 10% of its insecticides sales – far higher than its comparative land use. Moreover, the toxicity of Highly Hazardous Pesticides (HHPs) puts humans and the environment at risk. According to one study which reviewed existing scientific literature, around 44% of farmers are poisoned by pesticides every year. Pesticides can also cause serious health issues like cancer and neurological diseases and have long-lasting impacts on the environment, from polluting water sources to contaminating food supplies.
With many pests and weeds attracted to cotton, crop protection is an essential part of cotton farming. Crop protection can take many forms, including the use of pheromones and hormones, plant breeding, cultural and mechanical techniques, the application of conventional pesticides and the use of genetically modified plants. The overuse of pesticides by farmers has led to pesticide resistance, disruption to populations of beneficial insects and secondary pest outbreaks. Secondary outbreaks occur when the primary pests have been removed and other, secondary, pests become a problem, requiring the farmer to use another set of crop protection practices.
At Better Cotton, we take a holistic approach to crop protection that addresses these risks while also supporting farmers and their livelihoods. We know that all pesticides are not created equal and that simply banning them altogether is not realistic for most farmers. That's why our mission is to help farmers assess the best way to deal with pests in their local context by making them aware of all of the forms of crop protection available to them, including more sustainable options that are better for farm workers, farm communities and the environment at large.
2030 Target
By 2030, we want to reduce the use and risk of synthetic pesticides applied by Better Cotton Farmers and workers by at least 50%.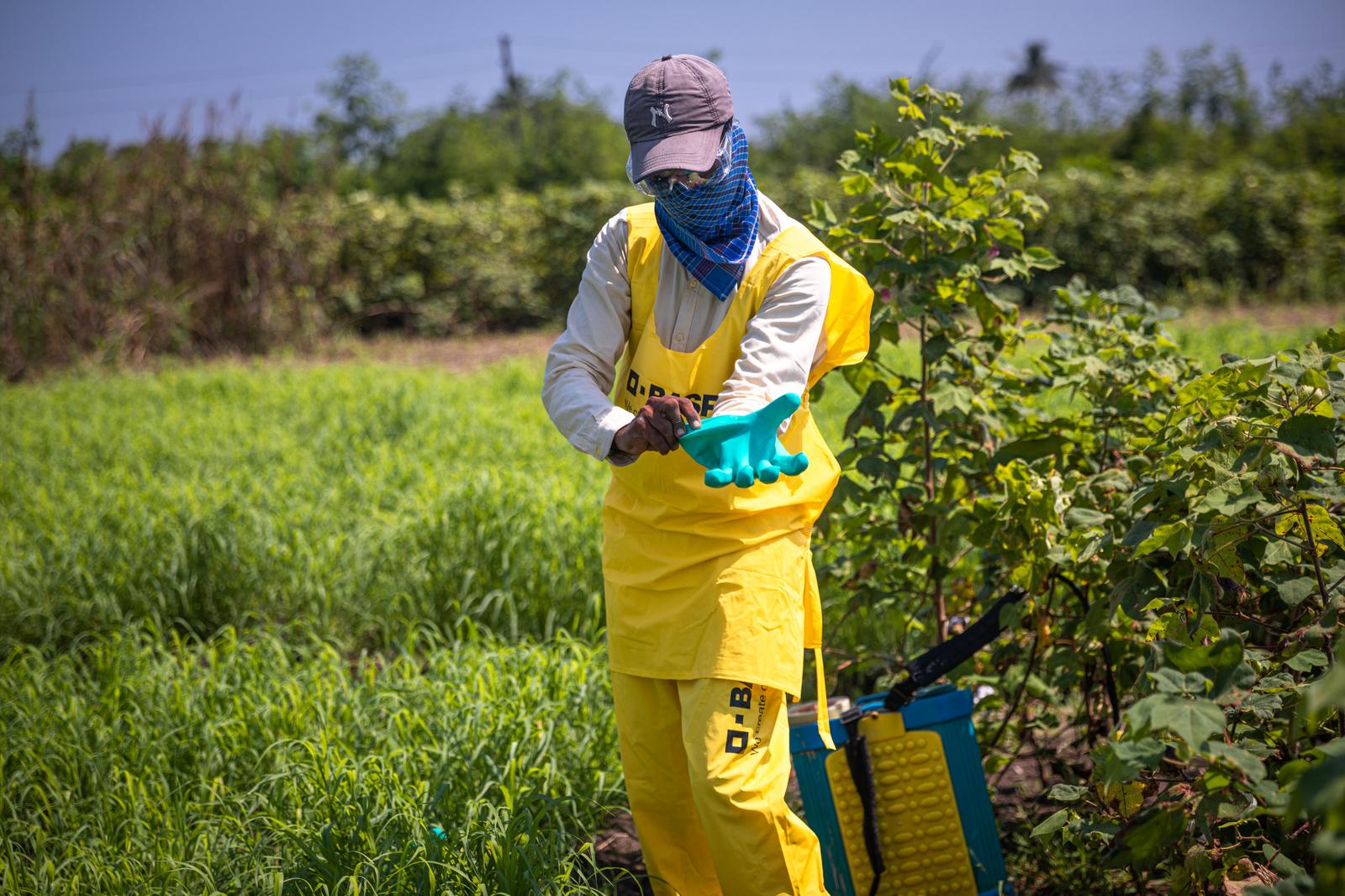 Photo Credit: Better cotton/Vibhor Yadav
Crop protection in the Better Cotton Principles and Criteria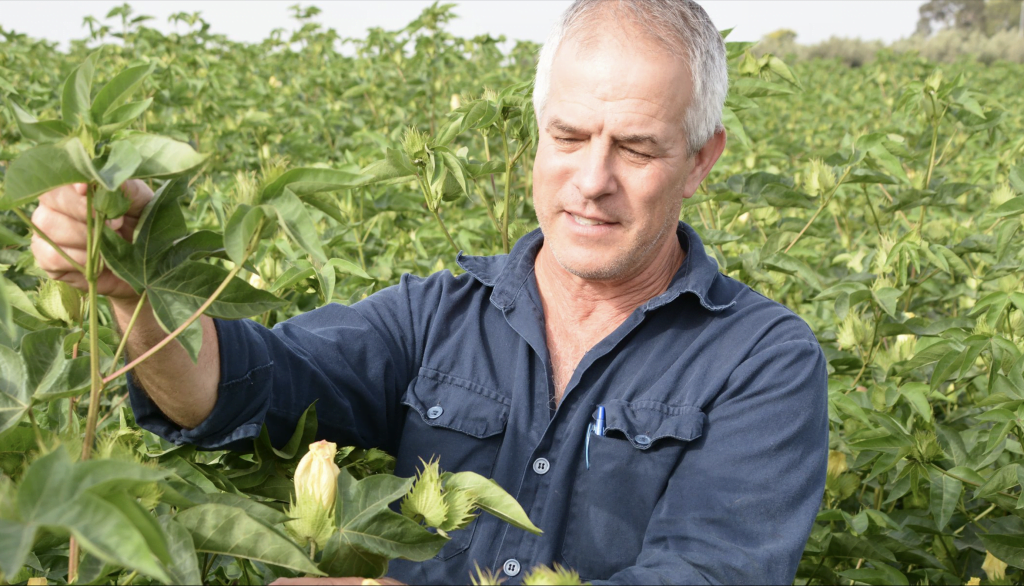 At the Better Cotton Initiative, we support farmers in adopting an Integrated Pest Management (IPM) approach to crop protection. Rather than a specific set of rules or a single strategy, IPM is a fundamental guiding approach for cotton farmers in protecting their cotton crop from the many and varied pests attracted to it.
With IPM, the presence of pests does not automatically lead to the use of control measures, and when control measures are necessary, non-chemical methods such as biopesticides or traps are the first choice — conventional pesticides are a last resort. The Better Cotton Initiative also requires farmers to phase out the use of highly hazardous pesticides.
Principle One of the Better Cotton Principles and Criteria defines the five principles of an IPM Programme:
Growing a healthy crop
Preventing the build-up of pest populations and the spread of disease
Preserving and enhancing populations of beneficial organisms
Regular field observations of crop health and key pest and beneficial insects
Managing resistance
While Better Cotton Farmers work towards making non-chemical control measures their first choice for crop protection, in some instances, a farmer will still make an informed decision to use pesticides. This occurs when pest pressures are so intense that the farmer will suffer severe economic losses if they don't apply them. In these cases, farmers have based their decision on a calculation of their economic threshold — the level at which the cost of the destroyed crops is greater than the cost of the pesticides. When pesticides are used, we help farmers implement practices that minimise their potentially harmful effects like ensuring they wear the appropriate personal protective equipment. The focus is on enabling farmers to make informed choices about the availability of strategies, practices and technologies and how to use them appropriately.
With climate change influencing the ecology of weeds, pests and diseases, an IPM approach helps farmers become more resilient while also saving money on expensive pesticide costs.
Better Cotton Farmers and Pesticide Use
In the 2018-19 season, Better Cotton farmers used less pesticide than Comparison Farmers. In China, they used 14% less, while in Tajikistan, they used 38% less. Biopesticides were also more widely used by Better Cotton farmers.
Learn more about Better Cotton pesticide use impacts in the Better Cotton Initiative Farmer Results report.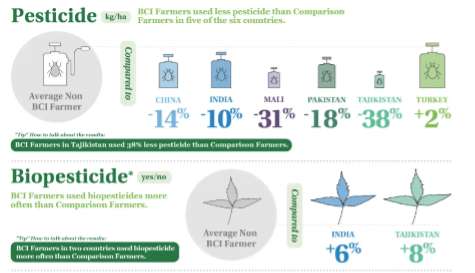 Integrated Pest Management in Practice in India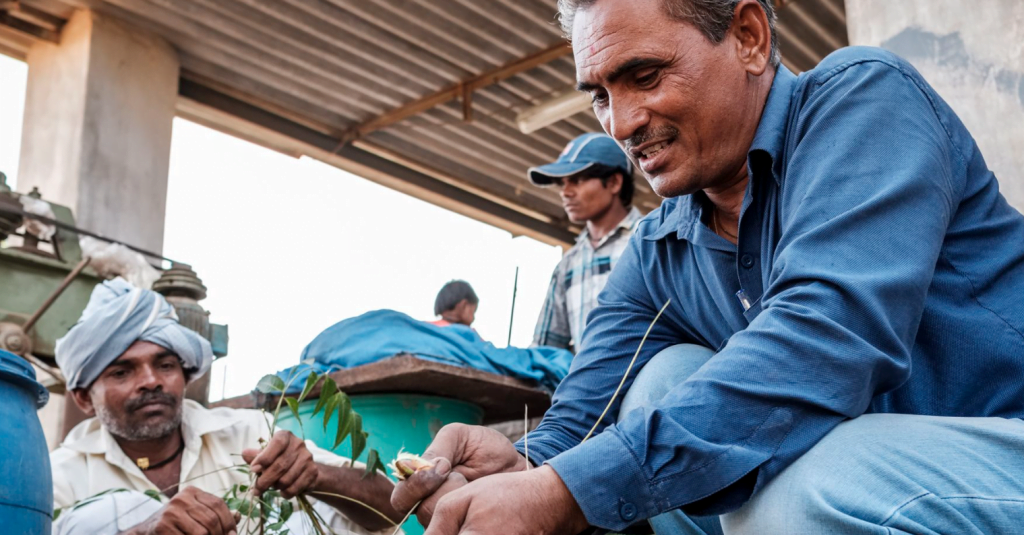 In the Saurashtra region of Gujarat, India, low, irregular rainfall (less than 600mm per year) combine with poor soil quality and a high risk of pest infestations to create ongoing challenges for farmers. Better Cotton Initiative Programme Partner Action for Food Production has been helping farmers in the region adopt IPM techniques that can help.
One farmer, Vinodbhai Patel, has fully embraced these more natural pest control methods. He prepares a biopesticide using leaves from local Neem trees, Crown Flower and Datura shrubs, which are known for their pharmacological effects on insect-pests. Before his workers apply this natural mixture, they count the number of aphids on plants and only spray when the number exceeds a certain threshold.
By managing insect-pests using ingredients sourced from nature — at no cost to Vinodbhai — and planting his cotton plants more densely, by 2018, he had reduced his pesticide costs by 80% (compared to the 2015-16 season), while increasing his overall production by over 100% and his profit by 200%.
Read more about how Vinodbhai Patel defied the odds to embrace natural farming methods
How Better Cotton contributes to the SDGs
The United Nation's 17 Sustainable Development Goals (SDG) outline a global blueprint for achieving a sustainable future. SDG 3 states that we should 'ensure healthy lives and promote well-being for all at all ages'.
By supporting farmers to adopt an IPM approach, requiring the use of highly hazardous pesticides to be phased out and ensuring farmers take the proper safety precautions when pesticides must be applied, we are working to protect the health and livelihoods of Better Cotton farmers one harvest at a time.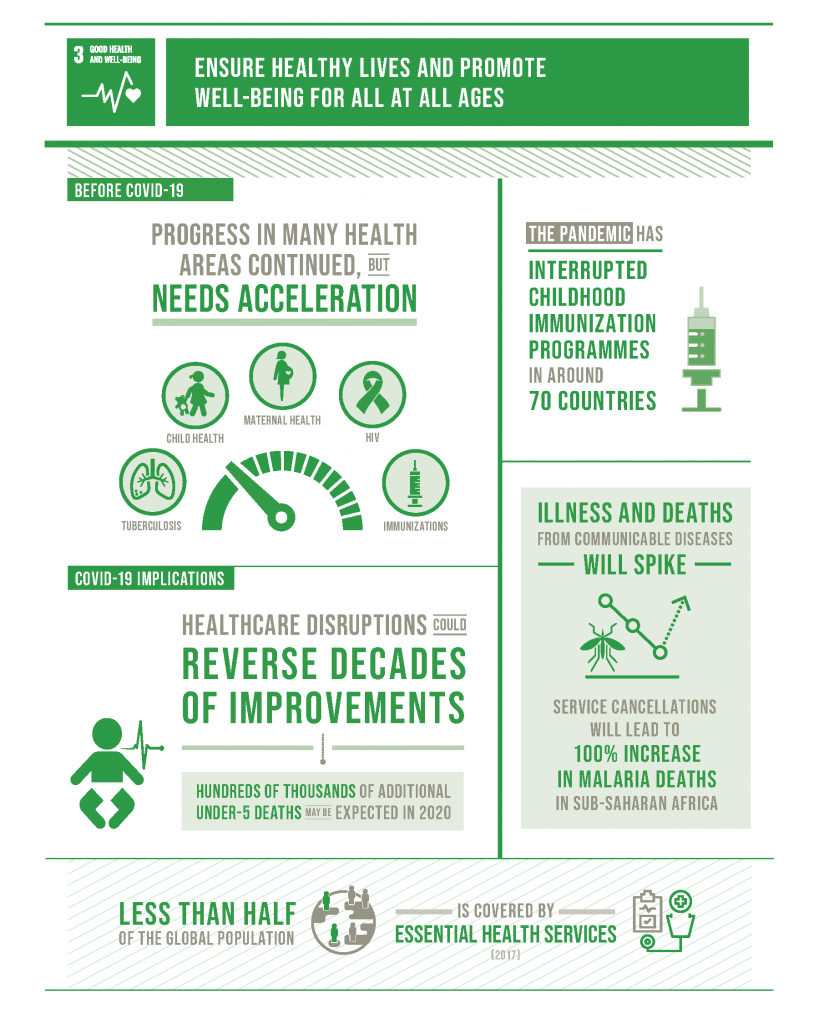 Learn more
Read these stories from the field on pesticides and crop protection practices:
Image credit: all United Nations Sustainable Development Goal (UN SDG) icons and infographics were taken from the UN SDG website. The content of this website has not been approved by the United Nations and does not reflect the views of the United Nations or its officials or Member States.