Today, the Better Cotton Initiative (BCI) revealed in its 2018 Annual Report that Better Cotton – cotton produced in line with the initiative's Better Cotton Principles and Criteria – now accounts for 19% of global cotton production*.
In the 2017-18 cotton season, together with our 69 on-the-ground partners and with support from 1,4000 members, BCI provided training on sustainable agricultural practices to more than two million cotton farmers in 21 countries(more than 99% of BCI Farmers are smallholders, farming on less than 20 hectares of land). This drove the volume of more sustainably produced cotton available on the global market to a new level.
By 2020, BCI aims to support 5 million cotton farmers in adopting more sustainable agricultural practices and improving their livelihoods. To do this, we focus on the diverse social, environmental and economic challenges faced by cotton farmers around the world, from drought in Australia to flooding in China and gender equality in Pakistan.
"Our comprehensive programme of training, practical demonstrations and knowledge-sharing helps farmers to raise their yields, reduce their impacts on the environment and improve working conditions. We address multiple environmental issues – from soil health and pesticide use to water stewardship – and raise awareness of the importance of Decent Work, focusing in particular on promoting women's empowerment and preventing child labour," says Alan McClay, CEO at BCI.
At the opposite end of the supply chain, BCI's Retailer and Brand Members such as Hennes & Mauritz AB, IKEA Supply AG, Gap Inc., adidas AG, and Nike Inc.passed an important milestoneat the end of 2018, sourcing more than one million metric tonnes of Better Cotton– a record for BCI. That's a 45% increase on 2017 and sends a clear signal to the market that Better Cotton is becoming a sustainable mainstream commodity.BCI's demand-driven funding model means that retailer and brand sourcing of Better Cotton directly translates into increased investment in training for cotton farmers on more sustainable practices.
Better Cotton uptake now accounts for 4% of global cotton consumption.This progress has moved BCI closer to our2020 target to see 10% of global cotton sourced as Better Cotton.
"This historic level of Better Cotton uptake is an encouraging indicator of how well BCI is progressing toward our five 2020 targets," says McClay.
Back in 2012, the BCI Council laid down a formidable challenge to all BCI Members, Partners, stakeholders and staff with the publication of five ambitious targets for 2020. The BCI Council asked us to demonstrate that multiple stakeholders, working together, can shift a global system so that sustainability becomes the mainstream. In the BCI 2018 Annual Report, we share the progress we've collectively made towards achieving these five targets.
Explore the complete BCI 2018 Annual Report on the interactive reportmicrosite. A PDF version is available for download.
Thank you to all of our committed stakeholders, who, by supporting and participating in BCI, are developing Better Cotton as a sustainable mainstream commodity and driving change.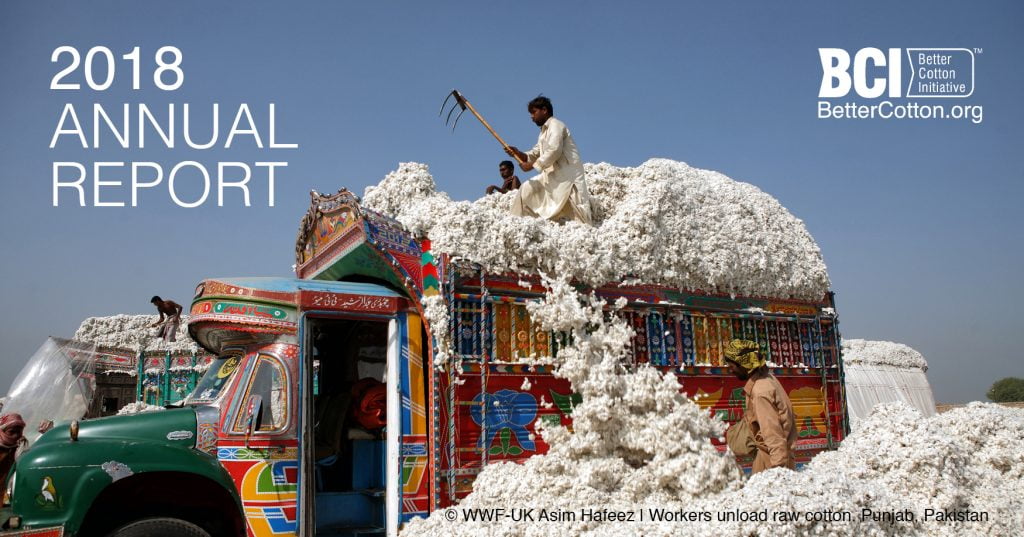 *The percentage has been calculated using ICAC's 2018 global production figures.
Read more