05.08.13 Forum for the Future
www.forumforthefuture.org
As international efforts are proving, sustainable cotton production doesn't just benefit the environment – it also improves the lives of the farmers and their families. Katherine Rowland reports.
Cotton has a battered reputation as a thirsty crop, and one demanding high levels of pesticide and insecticide. But innovations in recent years reveal that these traits belong to agricultural practices, and are not inherent to the crop itself. Indeed, international efforts from the likes of the Better Cotton Initiative (BCI) are steadily proving, not only that cotton production can be made more sustainable, but that decreasing the crop's ecological toll can improve the lives and livelihoods of farmers.
Around 90% of the world's 100 million cotton farmers live in developing countries, raising the crop on less than two hectares. These smallholders are especially vulnerable to market shifts and climate flux, and the performance of a single growing season can make or break a household. But global businesses are also tethered to the fate of these small plots. Smallholders comprise the basis of diversified and geographically dispersed supply chains that offer greater resilience than relying on the performance of a single crop. To ensure future supply, several leading companies are intervening on the ground to safeguard the resources on which cotton cultivation depends.
The John Lewis Foundation, a charitable trust set up by the UK retailer, has invested in a three-year programme to train 1,500 farmers in Gujarat, India, in sustainable production techniques. Through a combination of field and classroom based sessions, the trainings address issues such as soil health and water conservation, pest management, reduced chemical use and decent labour standards.
The retailer is working with CottonConnect, a social purpose enterprise set up in 2009 by the Textile Exchange, C&A, and the Shell Foundation, which helps companies map sustainable strategies throughout the supply chain, from ground to garment. The organisation does not set standards for sustainability, but rather works with retailers to meet sourcing objectives, such as Fair Trade and Better Cotton. With the goal of cultivating one million acres of sustainable cotton by 2015, CottonConnect works with up to 80,000 farmers annually, predominantly in India and China.
According to Anna Karlsson, Sustainable Development Manager at CottonConnect: "Economic benefit will keep farmers interested in continuing the training and implementing the practices. Environmental gains are secondary for most farmers. In the short term, using fewer pesticides will save them money, and using them in the right way will have health benefits. In the long term, [better practice] improves the soil, reduces leaching of chemicals into water, and encourages biodiversity."While the economic gains come chiefly from spending less on inputs, which in some countries can make up 60% of cotton production costs, better land management strategies also play a prominent role. Techniques such as soil assessments, which let farmers know how much and what type of fertiliser to apply, manure composting, intercropping and crop rotations help to preserve soil health; rainwater harvesting saves on irrigation, and pheromone traps to catch insects reduce dependence on chemicals.
These approaches – already used in the US, Australia and Brazil – comprise part of a larger toolkit developed by the BCI, a non-profit multi-stakeholder initiative that aims to elevate sustainable cotton production around the world, and established the Better Cotton standard in 2009 to do so. BCI seeks to counter the threats to the industry posed by soil erosion, water depletion, and unsafe working conditions, its principles are based on mainstreaming prudent agrochemical use, environmentally efficient production methods and improved labour conditions. Participating companies include H&M, Marks & Spencer, IKEA and adidas, alongside non-profit partners including WWF and Solidaridad. Collectively, they want 30% of the world's cotton production to comply with BCI standards by 2020.
The 2010-11 growing seasons saw the first harvests of Better Cotton in India, Pakistan, Brazil and Mali, and Better Cotton is now grown in China, Turkey and Mozambique. Although the programme is in its infancy, it currently involves more than half a million farmers, and has had significant results.
In India, where BCI workedin nine states in 2011,the 35,000 Better Cottonfarmers used 40% lesscommercial pesticides
and 20% less water than conventional farmers, while at the same time having on average a 20% greater productivity and 50% higher profits. In Pakistan, 44,000 Better Cotton farmers similarly used 20% less water and 33% less commercial fertiliser than conventional cotton farmers while having on average a 8% greater productivity and 35% higher profits.
These efforts and advancements echo those of more developed cotton-growing countries. In the US, for example, national and local government organisations strictly regulate pesticide and irrigated water applications. Cotton growers and importers also contribute to a collective research and educational outreach program. Over the last three decades, this combination of oversight and outreach has enabled US cotton growers to reduce pesticide applications by 50% and irrigated water applications by 45%.
In addition to technical training, many of these international programmes also incorporate literacy training, women's skill building, health and safety courses, and commitments to end child labour. Peter Salcedo, a trader for Plexus Cotton, the sixth largest cotton supplier in the world, says that retailers are responding to consumer interest in the welfare of producers, and are increasingly invested in issues like gender parity and community development. Consumers want to be able to trace where their goods are coming from, he says, and so brands need to be able to explain that their products have a "respectable provenance".
In East Africa, Plexus Cotton sources its stock from BCI, and works with social business development organisations, such as Cotton made in Africa and the Competitive African Cotton Initiative, to offer supply chain traceability starting with raw materials and labour conditions. Chimala Walusa, a farmer from the Balaka region of Malawi, is one of the 65,000 smallholders that Plexus is working with in the country. Walusa says, "My life style has changed since I became a lead farmer [in the training programme]. Before, I used to harvest less, like seven bales, but now I am harvesting more. This season I have harvested 60 bales of 90kg each. I managed to harvest all this because I followed the basic production techniques I was taught by extension agents [university employees who develop and deliver educational programmes]."
Increased yields result in direct gains for his wife and four children, Walsusa explains."From last year's sales, I managed to build a good house, and I bought four cattle and oxen.From this year's [which totaled MK1,575 million / US$4,800], I am planning to buy a plot in town and build a house for rent."These gains resonate across the supply chain. For the US-based retailer Levi Strauss & Co., on-the-ground efforts to improve cotton production also serve to protect its business from some of the effects of climate change. Of the 100 countries in which cotton production takes place, many are already feeling the impact of weather shifts in the form of water scarcity and constraints to arable land. As a result, they also recognise the need to implement adaptation strategies, says Sarah Young, Levi's Manager of Corporate Communications. For a company that depends on cotton for 95% of its products, addressing these challenges at the grower level is a necessary part of sustaining their business.
In the US, increasing weather variability, alongside growing demand, is similarly "cause for concern for cotton farmers and is generating strategies to adapt", says Ed Barnes, Senior Director of agricultural and environmental research at Cotton Incorporated, a not-for-profit organisation whose work helps US cotton farmers manage input efficiencies and reduce environmental impact. In the past, he says, "if the field didn't look like a clean construction site, you weren't going to plant". But now, 70% of US cotton farmers have adopted conservation tillage practices, a modern farming technique that allows the soil to hold more moisture and nutrients, thereby decreasing dependence on irrigation
and fertilisers.
The beauty of these conservation techniques, says Barnes, is that farmers still reap the same, if not higher, financial benefits. With the price of fertiliser and water rising globally, "farmers are interested in using resources as efficiently as possible", he says. "They are adopting more sustainable practices because they see the economic return, and that what's good for the land is good for growers."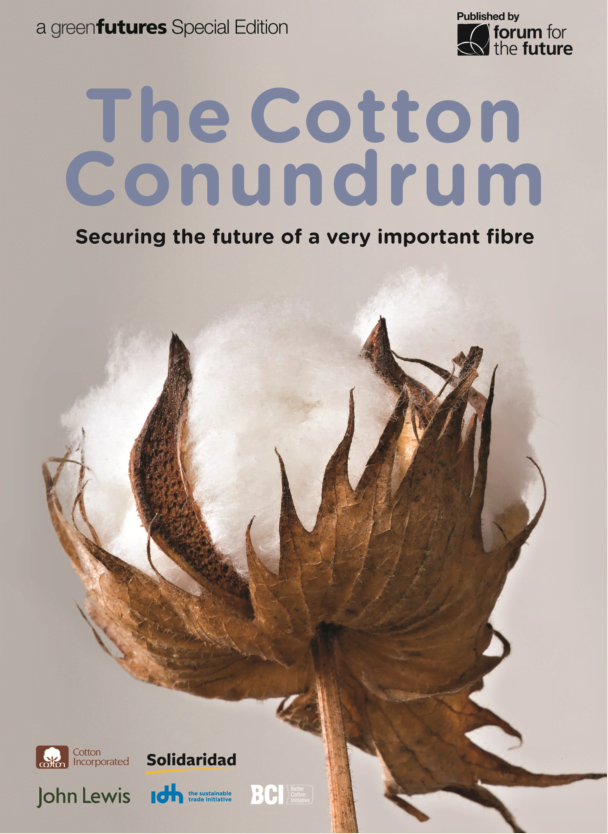 Katherine Rowland is a freelance journalist specialising in health and the environment.
This article was published by Forum for the Future in their Green Futures magazine special: "The Cotton Conundrum', available to purchase or download for free byclicking here.