SDG 8: Promote sustained, inclusive and sustainable economic growth, employment and decent work for all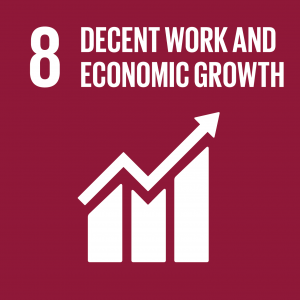 At least 75 million young people around the world, aged 15-24, are unemployed, out of school, and looking at a bleak future. This goal, while calling for economic growth to help close that gap, also calls for innovation and for 'decoupling' growth from ecosystem degradation.
BCI works with its partners to address and prevent the risks of child labour and to promote decent work in cotton farming. Under Better Cotton Principle Six: Decent Work, Implementing Partners work with BCI Farmers to focus on children's rights to education, health, and developmental well-being in line with the International Labour Organization conventions on child labour.
How BCI contributes to SDG 8
Better Cotton Principle Six is solely focused on Decent Work.
BCI supports farmers by helping them to understand and respect national legal requirements, as well as the fundamental, interrelated International Labour Organization conventions on respecting the minimum age for young workers (C138) and avoiding the 'worst forms of child labour' (C182). BCI does not operate in countries where forced labour is orchestrated by the government. Criterion 6.1 states that The Producer (BCI licence holders) must ensure there is no child labour, in accordance with ILO Convention 138.
In family smallholdings and many developing country settings BCI highlights the extent to which children can provide help on family farms, shares advice on promoting young people's health and wellbeing, and encourages parents to maximise educational opportunities, where they are available.
In 2018 Terre des hommes Foundation, the leading Swiss organisation for children's aid, partnered with BCI to support farmers, to address and prevent the risks of child labour and to promote decent work in cotton farming. Together, BCI and Terre des hommes plan to launch a pilot project to support BCI's Implementing Partners in India.
BCI measures the percentage of participating farmers who can accurately differentiate between acceptable forms of children's work and hazardous child labour. For example, in Turkey 83% of BCI Farmers had an advanced knowledge of child labour issues. Farmer Results 2016-17.
Story from the Field