In Tajikistan, farmers face challenges including water scarcity and extreme weather. In 2015-16, flood waters washed away newly planted seeds in the northern Sughd region, and unseasonably high summer temperatures damaged cotton crops across the country. Farmers also struggle to ensure contracts, and safe working conditions for seasonal cotton pickers.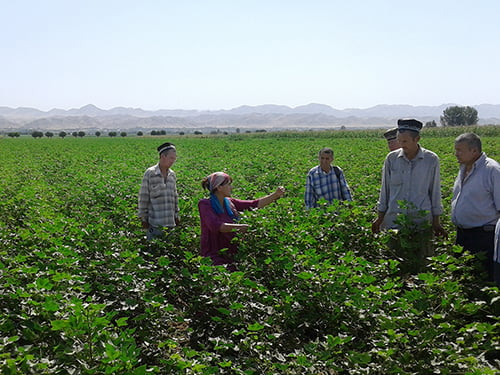 Chamangul Abdusalomova has been an agricultural advisor with Sarob, our IP in Tajikistan, since 2013, supporting field facilitators in delivering training and advice to farmers. An agronomist by training, she holds field days to showcase new technologies and runs practical demonstrations to help farmers implement each BCSS production principle. She also provides important advice on decent work. Her day begins early, often at dawn in the harvest season.
"Agriculture does not have working hours," she says. "In September, harvest season, I go to the field at 6am and check how farmers are getting on with harvesting, and how well they're following the BCSS criteria. For example, it's important that they don't use plastic bags to store cotton, as this encourages moisture. After the harvest, I help them to minimise losses by protecting the cotton in transport and storing it in a dry spot. I also monitor whether farmers are providing seasonal cotton pickers with drinking water, and whether there are children or pregnant women in the field."
Chamangul visits two to three farmers a day, advising farmers and workers on how best to address the issues they're experiencing and implement best practices. Her 'toolkit' of ideas and demonstrations varies during the season. For example, at the beginning of the cotton season, she helps farmers gauge the best moment to sow seeds by measuring soil temperature and giving advice on optimum weather for sowing. Both farmers and seasonal cotton pickers are keen to learn from her, she explains.
"When workers have a moment to relax, they often ask me questions about cotton growing – everything from the benefits of higher quality seeds or reducing soil acidity to identifying the insects they see in the fields," she says. "Often, I run question and answer sessions to address common challenges, and I share all the information with my team, so that other Learning Groups can benefit too."
Asked whether she has observed positive changes on the ground, Chamangul says she has seen evidence of farmers adopting both more progressive environmental and social practices, with positive results. "Beneficial insects, and using non-chemical alternatives to synthetic pesticides, helped BCI Farmers (compared to non-BCI Farmers) reduce their use of synthetic pesticides by 23% in 2015-16."
"In the rural villages where I work, farmers are increasingly learning to dispose of pesticide bottles responsibly, rather than throwing them in the river," she says. "This is helping to preserve the quality of local water supplies. Similarly, farmers are no longer grazing animals near areas due for pesticide spraying.
I'm also seeing farmers introduce 'beneficial insects' and cultivate wild flowers and plants that 'trap' pest insects, which is helping to reduce their reliance on chemicals. By adopting simple, cost effective pest management techniques, they're also saving money and putting less strain on the environment."
From a social perspective, Chamangul explains that farmers are increasingly stepping up to their responsibility to provide clean drinking water for workers, particularly during the harvest season. Additionally, children are tending to help their parents only outside of school time, with simple activities such as looking after the wild flowers bordering the field.
"I hope that more farmers will join BCI in Tajikistan because they will really see the benefits, particularly as demand for Better Cotton grows," she concludes.