SDG 15: Protect, restore and promote sustainable use of terrestrial ecosystems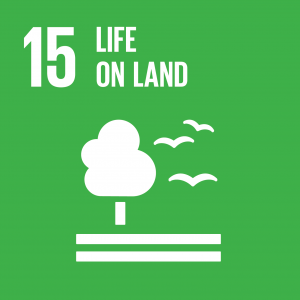 Life on land, on our beautiful planet Earth, is under terrible stress. This comprehensive goal covers nearly every aspect of the threat to living ecosystems and biodiversity and seeks to sustainably manage forests, combat desertification, halt and reverse land degradation and halt biodiversity loss.
BCI's approach to biodiversity focuses on the identification, mapping and restoration or protection of natural resources. BCI Farmers must adopt a Biodiversity Management Plan that conserves and enhances biodiversity on and surrounding their farm and includes identifying and mapping biodiversity resources, identifying and restoring degraded areas, enhancing populations of beneficial insects, ensuring crop rotation and protecting riparian areas.
How BCI Contributes to SDG 15
Better Cotton Principle Four: Biodiversity Enhancement and Land Use, solely focuses on training farmers to enhance biodiversity and use land responsibly.
With the revision of the Better Cotton Principles and Criteria in 2017, BCI adopted a new 'land use change' approach, based on High Conservation Value assessment. This is a safeguard against any planned conversion of land for the purpose of growing Better Cotton. Criterion 4.2.1 states that in the case of any proposed conversion from non-agricultural land to agricultural land, the BCI High Conservation Value risk-based approach must be implemented.
In 2018 BCI's Implementing Partner SAN JFS began conducting a High Conservation Value risk assessment procedure in Mozambique.
Through Better Cotton Principle Three: Soil Health, BCI Farmers are trained on techniques to care for the heath of soil. Criterion 3.1 states that Producers (BCI licence holders) must adopt a soil management plan to maintain and enhance soil health that includes identifying and analysing soil type, maintaining and enhancing soil structures and soil fertility, and improving nutrient cycling.
Story from the Field