Cotton is a major cash crop in the Jalna district of Maharastra, India, but cotton farmers there can experience numerous challenges. Frequent drought and extended dry spells, along with complex geological conditions make accessing water difficult. These issues coupled with recent pink bollworm (an insect known for being a pest in cotton farming) infestations can push farmers into increasingly difficult situations.
To tackle these ongoing challenges, cotton farmers often require real-time data and support to help make informed decisions about what preventative or mitigating actions to take. Advances in agricultural technology are now making it possible for more farmers to access immediate help and guidance. One such development is the "Cotton Doctor' mobile app, an Android and web-based decision support system, which was introduced in 2017 by WWF-India with its partner organisation Krishi Vigyan Kendra, Jalna. Earlier this year, the app was redesigned and updated to incorporate more features and specialised guidance.
"The app delivers alerts about extreme weather events, pest forecasts and irrigation advice straight to the farmers' smartphones – this information then assists them in making effective farming decisions," says Sumit Roy, Associate Director, Sustainable Agriculture Program, at WWF-India.
However, not all farmers have access to a smartphone. To overcome this and ensure as many farmers as possible can benefit from the wealth of information available via the Cotton Doctor app, WWF-India has launched a physical "farmer kiosk' in the Jalna district. Inside the kiosk farmers from the district can access the app via a tablet computer. WWF-India expects around 30,000 farmers (of which approximately 80% are licensed BCI Farmers) to benefit from access to the kiosk, which was officially opened by Honorable Collector Shri. Ravindra Binwade, who is responsible for the welfare of the people in the district.
Vasant Radhakishan Ghadge, a BCI Farmer who lives in Shivani village in the Jalna district, explains how farmers are already seeing the benefits of the kiosk: "I don't have a smartphone and I currently rely on agricultural advice being sent via SMS. Sometimes this is not adequate, for example, I may receive a three-day weather forecast when I need to understand the forecast over a longer period of time. With the launch of the Cotton Doctor kiosk service in the village, I can access the weather forecast for the entire week. I can also use the app to assess the soil moisture status of my field and make decisions for irrigation and pesticide spraying based on the forecast and ground data."
Guidance and advice provided through the app also complement BCI's Better Cotton Principles and Criteria and can support BCI Farmers as they implement more sustainable farming practices. For example, the app offers advice on using personal protective equipment when applying pesticides and fertilisers.
"Through the app, I receive information related to crop health and recommended doses of fertilisers and pesticides. I think I'll visit the kiosk two to three times per week, especially when there are sudden changes in weather or pest infestations," says BCI Farmer Vijay Nivrutti Ghadge.
BCI Farmer Kailash Bhaskar agrees that the app and kiosk are useful; "I find the "My Message' section of the app particularly helpful as I can type in my queries and find solutions to any challenges I might be experiencing on my farm."
This is first farmer kiosk to be opened in the Jalna district of Maharastra. WWF-India is planning to open more kiosks in the Badanapur district; "Future kiosk installations will be prioritised in the villages where fewer farmers have access to smartphones," explains Mukesh Tripathi, Coordinator, Sustainable Agriculture Program at WWF India.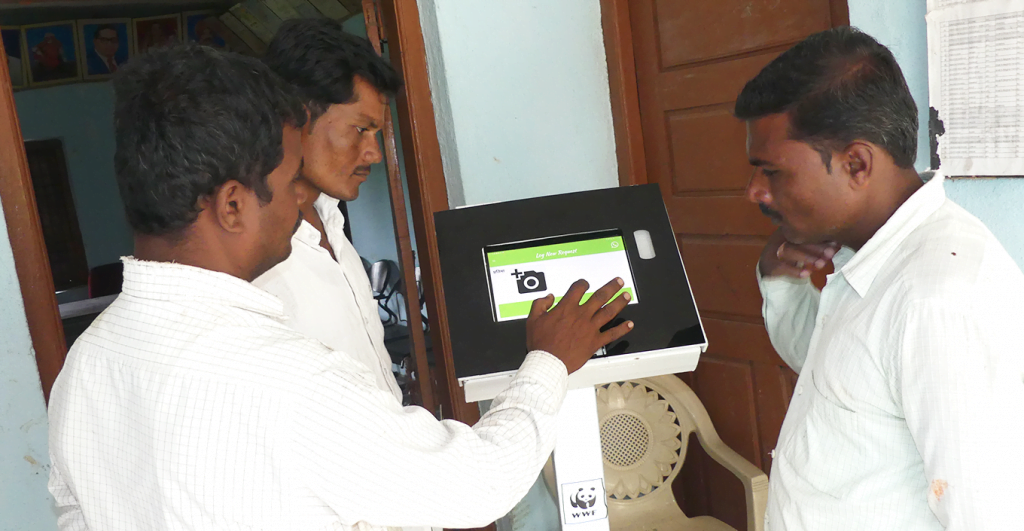 Image credits
Header image © Mr.Baba Saheb Mhask, WWF-India |Mr.Laxman Rao Borade uses the Cotton Doctor app |Maharastra, India, 2019
Footer image©Mr.Baba Saheb Mhask, WWF-India |Mr.Balasaheb Khedekar, Mr.Shivaji Ghadage and Mr.Vasant Radhakishan Ghadge visit the farmer kiosk |Maharastra, India, 2019