Earlier this year, Cotton 2040, with partners Acclimatise and support from Laudes Foundation, authored the first-ever global analysis of physical climate risks across global cotton growing regions for the 2040s, as well as a Climate Risk and Vulnerability Assessment of cotton growing regions in India. Cotton 2040 are now inviting you to join us for three roundtable events where we will dive into this data in deeper detail, sharing a geography-specific analysis of the expected impacts and implications across different cotton growing regions, seeking to understand the critical impacts for actors across the supply chain and to collectively prioritise both urgent and long-term action across the cotton sector.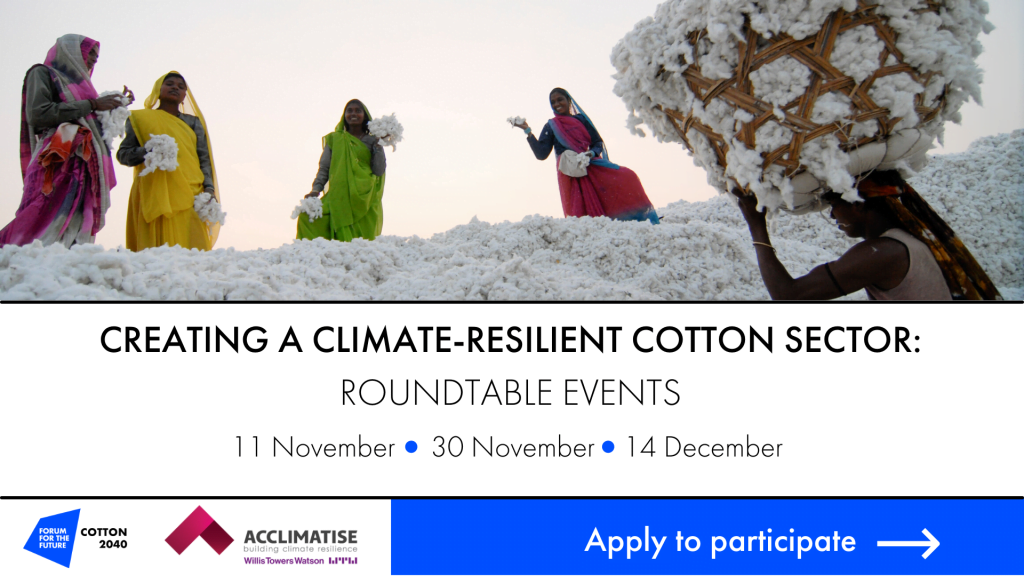 Apply to participate in this series of roundtable events through November and December 2021, where Cotton 2040 and its partners will come together to future-proof the cotton sector through climate and social adaptation. The three two-hour roundtable sessions are designed to build on each other over the course of five weeks and participants are encouraged to attend all three sessions. Each session will run online twice on each date, to suit time zones across the Americas, Europe, Africa, India and South East Asia.
Learn more
Find more details on the roundtable events and register here.
Roundtable 1: Thursday 11 November: Understanding the climate risks facing the cotton sector and exploring the implications for future production
Roundtable 2: Tuesday 30 November: Developing a deeper understanding of the adaptation response required to build a more climate resilient cotton sector
Roundtable 3: Tuesday, 14 December: Shaping a pathway towards collaborative action for a climate resilient cotton sector
Roundtable Conveners:
Dhaval Negandhi, Associate Director of Climate Change, Forum for the Future
Erin Owain, Lead Associate – Climate and Resilience Hub, and Alastair Baglee, Director, Corporates – Climate & Resilience Hub, Willis Towers Watson
Charlene Collison, Associate Director, Sustainable Value Chains and Livelihoods, Forum for the Future
How is Better Cotton contributing?
As part of Cotton 2040's 'Planning for Climate Adaptation' working group, Better Cotton worked with partners to develop the resources released earlier this year, particularly in setting up regional working groups to discuss how to optimise data in India and other regions. We will continue to use this research to feed into our climate strategy and prioritise areas with high climate risk.
The Better Cotton Initiative is a proud member of Cotton 2040 – a cross-industry partnership that brings retailers and brands, cotton standards and industry initiatives together to align efforts in priority areas for action. Read more about Better Cotton's collaboration with Cotton 2040:
Delta Framework – during 2019 and 2020, we have been working collaboratively with fellow sustainable cotton standards, programmes and codes via the Cotton 2040 Impacts Alignment Working Group to align sustainability impact indicators and metrics for cotton farming systems.
CottonUP – an interactive guide to help brands and retailers fast track sustainable sourcing across multiple standards, the CottonUP Guide answers three big questions about sourcing sustainable cotton: why it's important, what you need to know and do, and how to get started.
Learn more about Cotton 2040's 'Planning for Climate Adaptation' workstream by visiting their microsite.