Cotton 2040, with partners Acclimatise and support from Laudes Foundation, authored the first-ever global analysis of physical climate risks across global cotton growing regions for the 2040s, as well as a Climate Risk and Vulnerability Assessment of cotton growing regions in India.
The analysis shows that under a worst-case climate scenario, all cotton growing regions will be exposed to increased climate risk by 2040. The entire cotton value chain faces increasing exposure to climate risks, including rising temperatures, changes to water availability and extreme weather events. Even with ambitious decarbonisation efforts, climate adaptation will be essential. At the same time, the sector itself can also contribute to efforts addressing climate change, creating a resilient and future-fit cotton sector.
Learn more
Visit the microsite to access resources – the two reports, an interactive Climate Risk Explorer tool, blogs and videos with commentary by industry experts – designed to enable actors across the cotton industry to better understand the serious future challenges to cotton production and what's needed to respond to the challenge.
Attend the Cotton 2040 webinar where speakers will share key findings and data from this recently released research live, aiming to help participants understand how climate change will likely impact key cotton growing regions and supply chains. With producers and industry actors, the speakers will explore what these findings mean for their organisations. They will also inspire more ambitious, interlinked action to decarbonise rapidly and responsibly, focussing on climate adaptation and mitigation with climate justice across supply chains at its core.
Register here
Date: Wednesday, 14 July 2021
Time: 12:30-2:00pm BST
Speakers:
How is BCI contributing?
As part of Cotton 2040's 'Planning for Climate Adaptation' working group, BCI worked with partners to develop these resources, particularly in setting up regional working groups to discuss how to optimise data in India and other regions. We will continue to use this research to feed into our climate strategy and prioritise areas with high climate risk.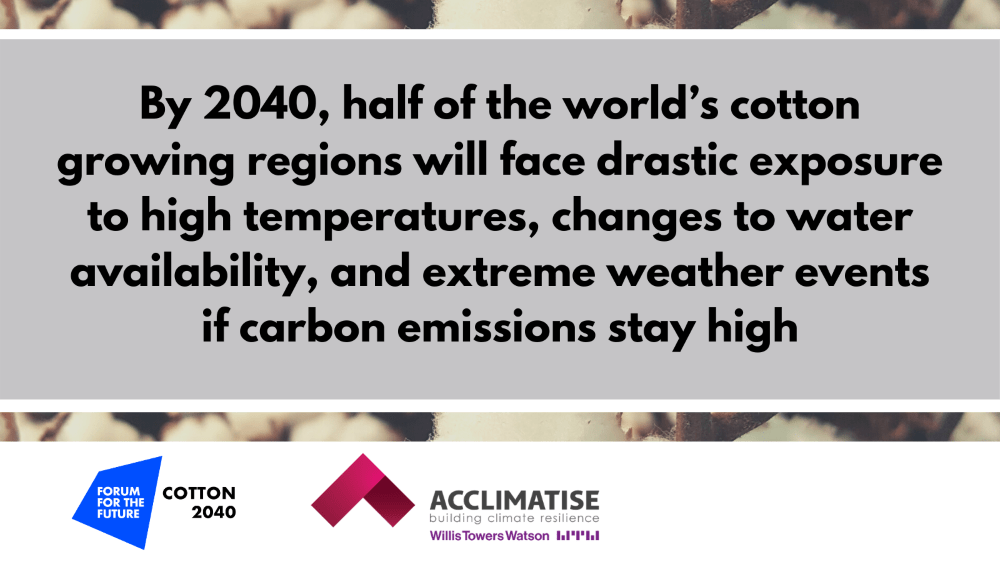 'BCI looks forward to using the valuable outcomes of the Cotton 2040 Climate Change Adaptation workstream to better understand priority regions to focus on, and to identify specific climate hazards facing farmers in these areas. BCI also welcomes the highly useful research in the India Climate Risk and Vulnerability Assessment report, which points to a strong linkage between climate change resilience and socio-economic factors such as poverty, literacy, and female work participation. This underscores the importance of a holistic approach in helping cotton farmers better adapt to climate change, and reinforces the need for BCI to work closely with multiple partners on this front.'

– Gregory Jean, Standards and Learning Manager, BCI
The Better Cotton Initiative is a proud member of Cotton 2040 – a cross-industry partnership that brings retailers and brands, cotton standards and industry initiatives together to align efforts in priority areas for action. Read more about BCI's collaboration with Cotton 2040:
Delta Framework – during 2019 and 2020, we have been working collaboratively with fellow sustainable cotton standards, programmes and codes via the Cotton 2040 Impacts Alignment Working Group to align sustainability impact indicators and metrics for cotton farming systems.
CottonUP – an interactive guide to help brands and retailers fast track sustainable sourcing across multiple standards, the CottonUP Guide answers three big questions about sourcing sustainable cotton: why it's important, what you need to know and do, and how to get started.
Learn more about Cotton 2040's 'Planning for Climate Adaptation' workstream by visiting their microsite.