Reaching millions of cotton farmers and supporting them to implement more sustainable farming practices which protect and restore the environment, while also improving their livelihoods, requires partnership, collaboration and local knowledge. BCI works with on-the-ground partners in more than 20 countries to provide training and support to cotton farmers. At the recent BCI Implementing Partner Meeting and Symposium, 10 Producer Unit* Managers from Implementing Partner organisations were recognised and awarded for their innovative biodiversity management practices.
Meet the winners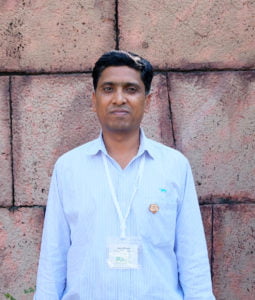 Dipak Khande, Welspun Foundation, India
Dipak has worked with BCI for nine years. He is a trained entomologist (the study of insects) and has strong expertise in soil management practices and Decent Work principles. During the 2018-19 cotton season, Dipak used visual and practical demonstration plots to address the challenges of monocropping (the agricultural practice of growing a single crop year after year on the same land) and promote the benefits of intercropping (growing two or more crops in close proximity) which can help increase soil fertility, reduce soil erosion and aid biodiversity. Dipak has also actively raised awareness of deforestation in his project area and supported farmers and farming communities on agroforestry and community forestry, even engaging school children with tree planting campaigns.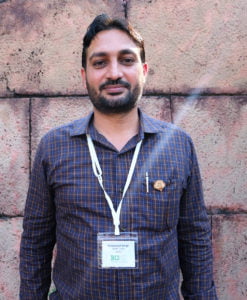 Kanwaljeet Singh, WWF India
Kanwaljeet played a key role in scaling up the BCI programme in Punjab, India. He organises regular training sessions and discussion groups for farmers, focusing on best practice in sustainable cotton farming (for example, water conservation methods). As an expert in Integrated Pest Management (the process used to solve pest problems while minimising risks to people and the environment), Kanwaljeet has helped cotton farmers in Punjab to reduce their use of harmful pesticides for controlling cotton pests. He also has significant experience in biodiversity mapping and trained the WWF India project team on mapping techniques which focus on eliminating the excess usage of fertilisers and preventing the burning of crop residues. As a result, 168 biodiversity demonstrations were conducted by the WWF India team in Punjab.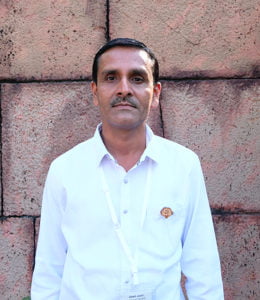 Jitesh Joshi, Ambuja Cement Foundation, India
In Gujurat, India, Jitesh helped establish the Somnath Farmer Producer Organisation. The organisation supports its 1,800 members – all of whom are licensed BCI Farmers – to save costs and achieve fairer prices for their cotton, while developing new ways to boost their income. Jitesh trains farmers on how to protect their fields from cotton pests, promoting the use of bio-pesticides and bio-control methods instead of harmful pesticides. Importantly, he has worked on the eradication of Highly Hazardous Pesticides and is one of the firstProducer UnitMangers in India to help all BCI Farmers in his Producer Unit eradicate Monocrotophos (an insecticide which is acutely toxic to birds and humans). Jitesh also champions agroforestry and native tree planting to create and maintain habitats for vulnerable bird species.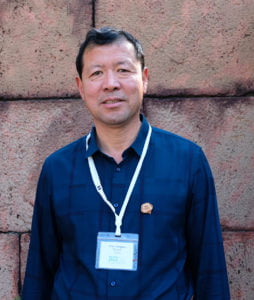 Chen Jingguo, Nongxi, China
Chen Jingguo promoted the development of farming mechanisation in hisProducer Unit, which greatly reduced the volume of labour-intensive farm work required to grow cotton. In parallel, in the 2018-19 cotton season, he helped BCI Farmers to implement a new type of waterpump called "axial flowpumps' – the pumps enable farmers to conserve water which puts them in a better position to deal with increasingly extreme and unpredictable weather conditions. Chen also focuses on supporting wider cotton farming communities and he proposed major measures to protect biodiversity at the 2018 People's Congress of Wudi County. His suggested strategy includes the establishment of natural protected areas and legislations to protect biodiversity.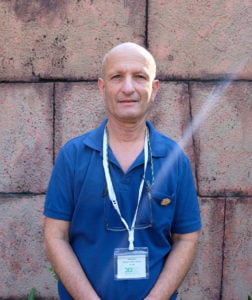 Ori Levi, Southern Growers Agricultural Cooperative, Israel
Ori Levi is Managing Director of the Southern Growers Agricultural Cooperative and a Producer Unit Manager with the Israel Cotton Board. He has been implementing the Better Cotton Principles and Criteria with BCI Farmers for a number of years. Ori leads environmental and social awareness programmes in his community and focuses on sustainable farming practices, profitability for farmers and farmer wellbeing. As part of his environmental and social involvement, Ori initiated the creation of a new community garden to bring people together and provide an opportunity to learn new skills. Ori also manages a team of agricultural extension agents (they apply scientific research to agricultural practices through farmer education) and coordinates their activities within a farmer support network.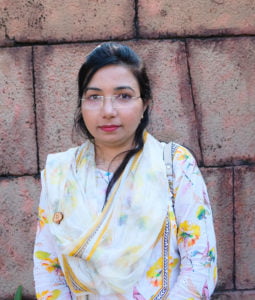 Maimoona Mohiuddin, Agriculture Extension Department, Govt. OfPunjab, Pakistan
Maimoona is the first femaleProducer UnitManagerin her project area. She has specialist knowledge of working with smallholder cotton farmers and actively promotes Decent Work principles. In the 2018-19 cotton season, she successfully identified and mapped biodiversity resources with farmers, promoted the control of insects through biological means and championed the conservation of natural habitats to protect migratory routes of key species. She also runs a plant clinic and has installed natural pheromone traps (devices containing pheromonesto lure insects away from cotton plants) and PB ropes (ties which release the same scent that female bollworms release to attract males) in demonstration plots and farmers' fields to control pink bollworm – an insect known for being a pest in cotton farming.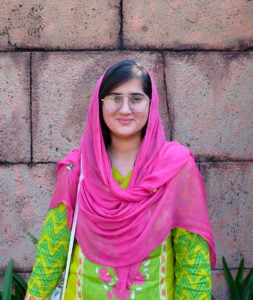 Sibgha Zafar, Lok Sanjh Foundation, Pakistan
Sibgha is an agriculturist by training and has a profound interest in crop management through natural methods, including the implementation of organic solutions for managing cotton pests. As a female Producer Unit Manager, Sibgha overcame gender biases in her local community to reach out to cotton farmers in the most remote areas of Bahawalnagar District to share the benefits of joining the BCI Programme. Sibgha also led a project to explore the benefits of rearing poultry as a natural method for controlling pink bollworms (an insect known for being a pest in cotton farming). Poultry like to feed on pink bollworm, and can also provide additional income for farming families and communities. The results included reduced pesticide use, increased populations of beneficial insects, such as bees, and financial savings for BCI Farmers.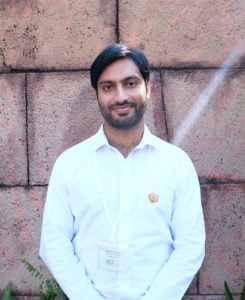 Fawad Sufyan,WWF Pakistan
In the 2018-19 cotton season, committed Producer Unit Manager Fawad focused his attention on three key areas: soil testing, water stewardship and biodiversity. In one year, Fawad motivated 3,900 BCI Farmers to implement biodiversity conservation measures on their farms and in their surrounding communities. As part of this drive, BCI Farmers mapped biodiversity resources, planted 2,000 trees as part of a plantation campaign, created bird feeders and shelters and grew border crops alongside their cotton fields to attract birds to naturally control known cotton pests. Fawad also delivered training on soil testing, and water mapping and conservation. As a result, many farmers were able to improve their soil health, by applying the necessary and appropriate nutrients to their soil.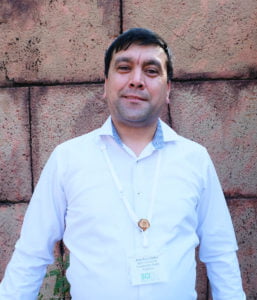 Abdulloev Alisher,Sarob,Tajikistan
Abdulloev has worked with BCI since 2014. He regularly visits BCI Farmers, while also coordinating the activities of 50 Field Facilitators (field-based technicians, often with backgrounds in agronomy) who are responsible for training approximately 460 farmers. During the implementation of the WAPRO project (a multi-stakeholder initiative created to enhance water productivity) in Tajikistan, Abdulloev developed a detailed water resources map and played a key role in the creation of a demonstration plot to share water saving technologies and practices with farmers. Abdulloev also supports Field Facilitators and BCI Farmers to understand the concept and importance of biodiversity – in the 2018-19 cotton season he started conducting biodiversity mapping with large and medium farms.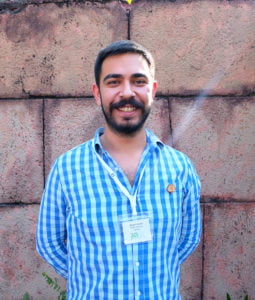 Ahmet Vural, WWF Turkey
Ahmet was selected as aProducer UnitManagerin 2019 due to his high performance in the field. He has excellent relationships with farmers, organises successful trainings and shows a strong enthusiasm for building farmer capacity – as the son of a farmer, Ahmet can easily relate to the challenges faced by BCI Farmers. Ahmet regularly performs Cotton Ecosystem Analysis in the field – this involves observing cotton plant specifics (including plant growth, weather conditions, pests, beneficial insects, plant diseases, weeds and water requirements) and making decisions, in collaboration with the local community, on how to improve farming practices while protecting and enhancing biodiversity on farms.
We are thankful to all BCI partners and we're pleased to be able to share and celebrate some of the innovative field-level practices being implemented around the world.
You can find out more about the annual Implementing Partner Meeting and Symposium in this short video.
*Each BCI Implementing Partner supports a series ofProducer Units, which is a group of BCI Farmers (from smallholder ormedium sizedfarms) from the same community or region. Each Producer Unit is overseen by a Producer Unit Manager and has a team of Field Facilitators; who work directly with farmers to raise awareness and adoption of more sustainable practices, in line with the Better Cotton Principles and Criteria.