About Better Cotton
Cotton is a globally important and widely grown crop. Approximately 250 million people's livelihoods are dependent on cotton in the production stages alone. For millions of people, often in some of the world's poorest countries, cotton is a vital link to the global economy.
Cotton is used by nearly every single person on the planet on a daily basis. It is a renewable natural resource, but the future of cotton production is vulnerable to environmental degradation, poor working conditions and unstable markets. From improper use of pesticides, to low incomes and even child labour, there are many ways in which improvements need to be made. In 2005, a group of visionary organisations came together to develop a practical solution that would secure the sustainable future of the industry. The result was Better Cotton.
The Better Cotton Initiative (BCI) brings together farmers, ginners, traders, spinners, mills, cut & sew, manufacturers, retailers, brands, civil society and grassroots organisations in a unique global community committed to developing Better Cotton as a sustainable mainstream commodity.
By helping farmers to grow cotton in a way that reduces stress on the local environment and improves the livelihoods and welfare of farming communities, BCI aims to create long-term change.
It is a global approach that provides a solution for the mainstream cotton industry, including both smallholders and large scale farmers. All farmers can benefit from implementing the Better Cotton Standard and the development of a new and more sustainable mainstream commodity, Better Cotton.
Hear from cotton farmers themselves in our Stories from the Field.
Where is Better Cotton Grown?
AUSTRALIA BRAZIL CHINA CMIA INDIA ISRAEL KAZAKHSTAN MADAGASCAR MALI MOZAMBIQUE PAKISTAN SENEGAL SOUTH AFRICA TAJIKISTAN TURKEY USA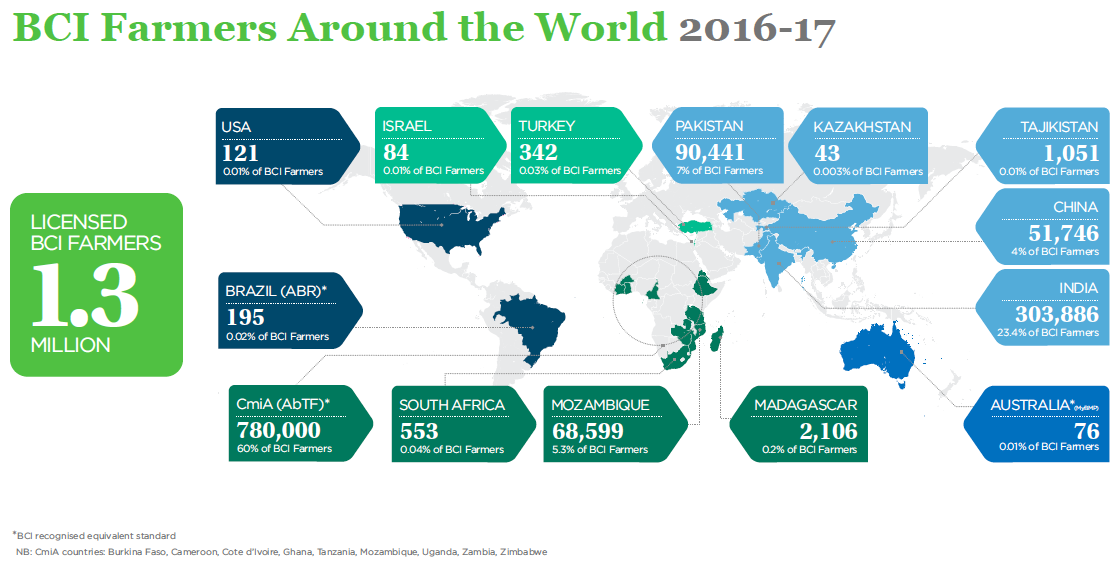 In the 2016-2017 season, 1.3 million BCI Farmers across 21 countries produced 3.3 million metric tonnes of Better Cotton lint, accounting for 14% of global cotton production.
Through a successful benchmarking process, as of April 2018, the following standards are recognised by BCI as being equivalent to the Better Cotton Standard System: myBMP (My Best Management Practice) in Australia, ABRAPA (Associação Brasileira dos Produtores de Algodão) in Brazil, 'Cotton made in Africa' (CmiA) and 'Smallholder Cotton Standard' (SCS) of Aid by Trade Foundation (AbTF). CmiA and SCS are benchmarked with BCI in specific countries in Africa; more information can be found here.
With the support of over 60 partners, we are on track to achieve our 2020 goal to reach and train 5 million cotton farmers and produce 30% of global cotton as Better Cotton. Our partners deliver field-level capacity building programmes that help farmers understand and apply the Better Cotton Principles and Criteria, improve the sustainability of their farms and gain a Better Cotton license. These licenses enable farmers to sell their cotton as Better Cotton, increasing the supply of more sustainable cotton in the global market, and linking farmers with a growing demand for more sustainable raw materials.
Partners also implement continuous improvement plans, identify opportunities for innovation and collect the field level data we use to monitor and evaluate our work. We also work with certain existing national sustainability standards to allow farmers already adhering to those standards to sell their cotton as Better Cotton.
To learn more about key environmental, economic and social indicators achieved by BCI Farmers, refer to our annual Harvest Reports.
Better Cotton Standard System
The Better Cotton Standard System is a holistic approach to sustainable cotton production which covers all three pillars of sustainability: environmental, social and economic. Each of the elements – from the Principles and Criteria to the monitoring mechanisms which show results and impact – work together to support the Better Cotton Standard System, and the credibility of Better Cotton and BCI. The system is designed to ensure the exchange of good practices, and to encourage the scaling up of collective action to establish Better Cotton as a sustainable mainstream commodity.
Below is an explanation of each of the component parts which make up the Better Cotton Standard System. Click on the links for more detailed information about each element: