Mozambique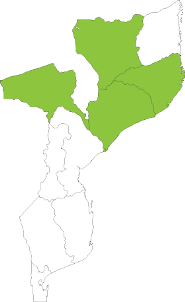 Cotton is the most important agricultural export crop in Mozambique, and one of the major sources of income for rural households in central and northern Mozambique. Most farmers cultivate less than one hectare of cotton.
In Mozambique, 86% of the country's cotton farmers produce Better Cotton. From this, smallholder BCI farmers manage 90% of the land under cotton cultivation. BCI Farmers grow rain-fed cotton, largely by hand. As the climate changes, irregular rainfall patterns are bringing significant challenges to farmers, with droughts leading to the complete loss of farmers' crops, in some extreme cases.
BCI has worked closely with the government's Cotton Institute of Mozambique (IAM) to share learning opportunities and establish a strategic partnership. We continue to work together to address sustainability challenges in the country such as pest management, preventing soil erosion, and protecting water sources.
Who grows Better Cotton?
In the 2017-18 cotton season, 99,727 licensed BCI Farmers in Mozambique produced 11,000 metric tonnes of Better Cotton lint on 56,000 hectares.
Who are BCI's Partners in Mozambique? 
The Cotton Institute of Mozambique (IAM) is BCI's Strategic Partner and takes a lead role on the implementation of the Better Cotton Standard in Mozambique. BCI's Implementing Partners in Mozambique are concessions that are ginners, in most cases. According to the country's legislation, cotton concessions are companies that are given the right by the government to be the sole operator in a given area. In return, such concessions provide farming inputs (seed and pesticides) to the farmers. The country has 14 concessions that are mostly national companies – such as SANAM, SAN-JFS and Mocotex – with few multinational concessions such as OLAM.
OLAM became BCI's Implementing Partner in Mozambique, working with farmers to produce the country's first Better Cotton harvest in 2013. The 2014 harvest significantly scaled up across more regions with Implementing Partners including SANAM and SAN-JFS coming on board, along with Mocotex's participation later on in the 2015 harvest. With Implementing Partners having limited financial resources to promote Better Cotton in Mozambique, BCI and IAM are working together to develop fundraising strategies for capacity building to help secure the future of Better Cotton production in Mozambique.
When is cotton grown in Mozambique?
In Mozambique, cotton is sown from January to February and harvested from May to August.
Stories from the Field
Find out how Manuel, a BCI Farmer, implemented best practice techniques and raised his yields. Read more.