Today is Earth Day 2020, and we would like to take this opportunity to highlight how BCI and our on-the-ground partners are supporting more than 2.5 million cotton farmers to adapt to the impacts of climate change. Amidst the Covid-19 pandemic, existing challenges are intensified, leaving farmers and farm workers more at risk and further impacting their livelihoods.
Climate change is a real and pressing challenge for cotton farmers worldwide, from the large, mechanised farms of the US and Australia to the millions of smallholders in countries including India, Pakistan and Madagascar. Extreme or irregular weather, prompted by climate change, heightens the risk of poor cotton yields and low fibre quality, with cotton farmers facing risks of increased costs and lower profits, and even loss of livelihoods.
As part of BCI's commitment to supporting the UN's Sustainable Development Goal 13 on Climate Action, BCI and our on-the-ground partners support millions of cotton farmers across the world in adapting to climate change.
Preventing climate change and building farmers' capacity to cope with extreme weather are central tothe Better Cotton Principles and Criteria(seven principles that BCI Farmers adhere to so that they can grow cotton in a way that is measurably better for the environment and farming communities).
BCI Farmers are trained on techniques to enhance and sustainably manage biodiversity, which is critical to addressing climate change, and helps ensure cotton production areas are more resilient to extreme and unpredictable weather conditions. In particular, BCI Farmers are encouraged to focus on improving water quality and availability; caring for soil health, plants, trees and wildlife on their farms; and restoring degraded soils and vegetation, while protecting non-agricultural lands.
BCI also works with scientists and agricultural experts at universities and agronomic institutes to understand the effects of extreme or irregular weather in countries where Better Cotton is grown, helping to continually develop the training and advice delivered to farmers.
Through our Towards Climate Resilience series, we explore how BCI Farmers across the world are taking action to build their resilience to extreme weather and reduce their own carbon footprint.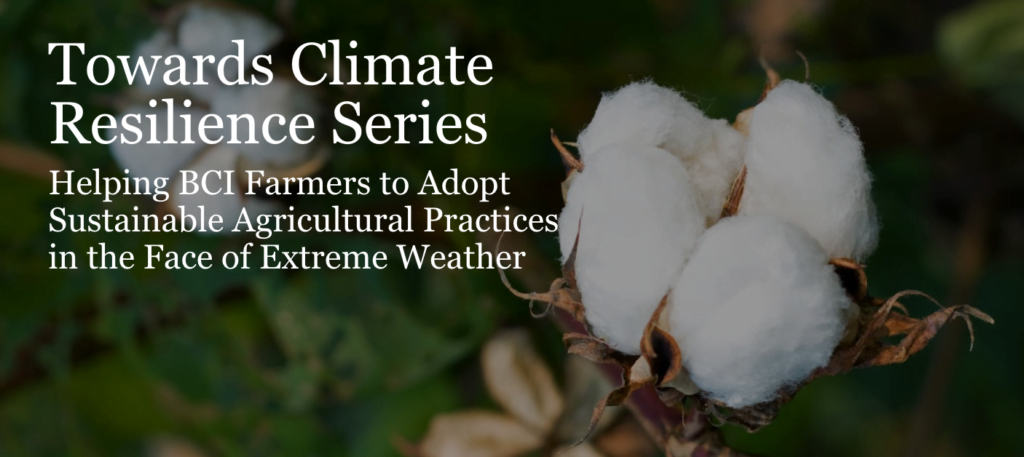 Learn more about how BCI Farmers are implementing more sustainable farming practices and tackling climate change in BCI's Stories from the Field.