Better Cotton Platform
What is the Better Cotton Platform?
The Better Cotton Platform (BCP) is an online system owned by the Better Cotton Initiative (BCI). The platform is used by more than 8,000 ginners, traders, spinners, fabric mills, garment and end product manufacturers, sourcing agents and retailers to electronically document volumes of cotton sourced as 'Better Cotton' as they pass through the supply chain.
Access to the BCP allows organisations to participate electronically in the Better Cotton Chain of Custody by recording information about cotton-containing orders sourced as Better Cotton, managing the required documentation, and recording information about cotton-containing sales to customers.
It is now compulsory for all supply chain actors involved in fulfilling Better Cotton orders for BCI Retailers and Brand Members to use the BCP. These changes came into effect on 1 January 2020.
*BCI operates using a mass balance chain of custody model and does not recognise physical traceability. Nobody (BCI Member or non-member), is able to claim they have Better Cotton yarn, fabric or products. This chain of custody model means that a supplier can never sell physical Better Cotton.
Find Suppliers on the Better Cotton Platform
To facilitate uptake of Better Cotton in the supply chain, and ultimately by BCI Retailer and Brand Members, BCI publishes a list of the suppliers that are on the Better Cotton Platform that can provide Better Cotton Claim Units (BCCU's).

The suppliers on the list range from merchants and spinners, to finished garment manufacturers.

When engaging with your supply chain partners, it is important to remember that BCI uses mass balance approach. A BCI order does not equate to a BCI product. LEARN MORE.
Register for a BCP Account

Recent Changes to the Better Cotton Platform
Overview
As part of BCI's commitment to continual improvement, we are making some changes to how Better Cotton Claims Units (BCCUs) can be transferred through the BCP and the supply chain. This is designed to protect the credibility of BCI's chain of custody system and simplify the transfer of BCCUs.
As of 1 January 2020, companies wishing to transfer Better Cotton Claim Units (BCCUs) must do so electronically through the BCP. Starting on this date, members or non-member BCP Supplier* will no longer be able to transfer BCCUs using the manual entry option that is currently available in the BCP.
If a company is already a member of BCI or a BCP non-member supplier, no action is required.
Spinners cannot transfer BCCU's directly to retailers. All fabric mills and yarn purchasing companies must have a BCP account.
Paper/hard copy Output Declaration Forms (ODFs) will no longer be accepted as a transaction entry method in the Better Cotton Platform.
BCI Retailer and Brands Members had until 31 July 2020 to manually add BCCUs to their accounts.
The annual BCP access fee has been reduced from €750 to €500.
*A non-member BCP Supplier is a company that is not a BCI member but has access to the BCP and can transfer BCCUs electronically using a supplier, end-product manufacturer, non-lint trader or sourcing agent account type.
BCP Key Changes Summary and FAQ
Download the Key Changes summary document and our detailed FAQ for further information. Translations are available below – additional translations will be added in due course.
Italian: Italian BCP FAQ / Italian BCP Changes Overview
Chinese: Chinese BCP FAQ / Chinese BCP Changes Overview
French: French BCP FAQ / French BCP Changes Overview
Portuguese: Portuguese BCP FAQ / Portuguese BCP Changes Overview
Spanish: Spanish BCP FAQ / Spanish BCP Changes Overview
Guidance Documents for Suppliers
BCP Changes: Guidance for End-Product Manufacturers
BCP Changes: Guidance for Fabric Mills
BCP Changes: Guidance for Sourcing Agents
BCP Changes: Guidance for Spinning Mills
Important Dates

Tell me more about the Better Cotton Platform
What is the purpose of the Better Cotton Platform?
The video below explains how the Better Cotton Chain of Custody works, and how the Better Cotton Platform supports and enables this model.
How do BCI orders work?
A BCI order does not equal a BCI product. Find out how Better Cotton Claims Units work.
Who uses the Better Cotton Platform?
All cotton supply chain actors – ginners, traders, spinners, fabric mills, garment and end product manufacturers, sourcing agents and retailers – can have access to the BCP. More than 7,000 organisations currently use the Better Cotton Platform to enable the flow of Better Cotton Claim Units through the supply chain, including more than 200 well-known retailers and brands who are already sourcing large volumes of cotton as Better Cotton.
Can I communicate about my BCP access?
Companies with BCP access can use the following statements, separately or together, when they communicate about BCI and Better Cotton.
'We're proud to work with Members of The Better Cotton Initiative/BCI.'
'We have passed the Better Cotton Chain of Custody training and have access to the Better Cotton Platform.'
Please note that non-member BCP Suppliers cannot use the BCI logo. Find out more.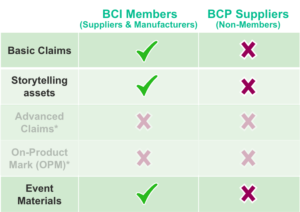 BCI Members have more options available to them to communicate their membership and commitment to BCI and Better Cotton. You can find out more about the difference between BCI membership and non-member BCP access here.
How do I register for a Better Cotton Platform account?
What are the eligibility criteria?
To be eligible for BCP access:
You must be a registered legal entity.
You must not be listed on any internationally recognised default list, nor be affiliated with a company on a default list. Examples of such lists are ICA, WCEA and CICCA.
You must complete an online training course provided by BCI after submitting your application and making your payment.
Please review the Better Cotton Platform Terms and Conditions. You can then register for an account here.
How much does access cost?
One account for an established business or group of affiliated companies costs 500 € for a period of 12 months.
You will be asked automatically to renew your access to the BCP at the end of each 12-month period. Timely payment will ensure uninterrupted access to the system. If the renewal fee is not paid on time, your BCP access will be temporarily blocked until payment is made.
How do I pay?
You can pay for BCP Access with a VISA or Master Card credit or debit card or international bank transfer.
If you use credit card payment, please ensure that your card is registered in the same country as your organisation.
Please note: When paying via international bank transfer, reconciliation can take more than 10 working days before the payment is properly reconciled in our BCI account. You are also responsible for covering all related bank charges, including local taxes. BCP access will not be given until the payment has been properly reconciled. It is not possible to switch payment method after you submit the form, so please choose carefully the payment mode you want to use for the payment of your fee.
Please note that BCI will not refund payments should you neglect to read the Terms and Conditions before purchasing access to the BCP.
Is our online payment safe?
We use the Stripe payment platform to securely process online payments. Your data is always transmitted via SSL encryption and BCI does not hold any credit card data relating to your payment. All other data submitted is managed according to the BCI Data Protection Policy.
Is there any training involved?
Yes. After you complete the BCP registration process and purchase an account, you will receive an email from [email protected] with a link to an online training which explains how the BCP works and how to use it. You must successfully complete this online training via the unique link in the email you receive before you will be given access to the BCP.
The training platform offers different courses for different types of supply chain actors. You will be asked to choose the one relevant to the type of business you conduct. For example, if you buy fabric and sell garments, you must complete the training tailored for this type of business activity.
BCI Membership Vs. Better Cotton Platform Access
What is the difference between BCI Membership and Better Cotton Platform access?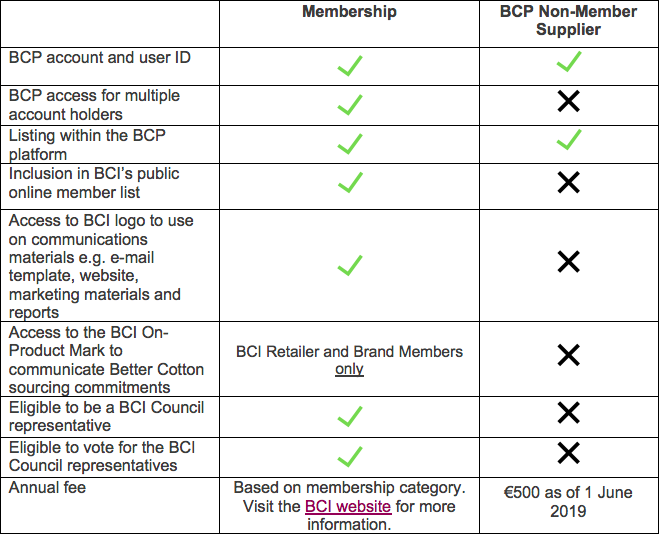 If you are interested in becoming a BCI Member, please visit our membership webpage or contact [email protected].
For questions relating to the BCP, please contact us via the BCP Helpdesk.
Better Cotton Platform Helpdesk
For all questions related to joining, accessing and using the Better Cotton Platform, please read all of the information provided on this page.
If you cannot find the answer to your question, or need additional support, please contact the Better Cotton Platform Helpdesk at [email protected] You can also reach our Helpdesk by calling 0091-6366528916.
Email response time: Within 24 hours, except on Fridays.
Better Cotton Platform Login (existing users)
BCP 供应商中文在线申请
很抱歉我们无法提供全中文的申请表格。为此,我们附上了《申请表填写指南》为中文使用企业提供了表格填写关键部分的说明指导。请注意,填写表格时请务必使用英文,其他文字无法识别无法成功申请。
下面附上《条款和条例》的双语文件,供您参考。