We are delighted to launch a new Cotton Sustainability Digital Series for 2021!Sessions and speakers originally curated for the in-person 2021 Global Cotton Sustainability Conference will now be coming to you live online, at more accessible rates and times across the entire year.
Join BCI and partners throughout 2021 for the monthly Cotton Sustainability Digital Series, where the entire sector will come together to shape a more sustainable future for cotton.
Connect with industry leaders and experts andexplore the entire cotton value chain. Sessions will focus on topicsincludingclimate action, innovation today and social sustainability.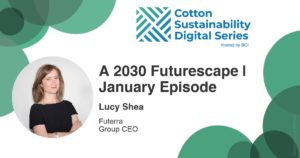 January Episode| A 2030 Futurescape
What will 2030 look like and how do we respond as brands, manufacturers, NGOs and citizens?'
Join Lucy Shea, Group CEO, Futerra, for an exploration of the sustainability trends that are shaping the world around us and the fashion and textiles sector. In particular, we will look at how companies who embed sustainability have proven to be more resilient in 2020 and are building back better, becoming the businesses that our future needs. The next ten years will see the disruption of almost every industry, driven by our fast-changing world and the shifting desires of consumers, especially Gen Z.Learn more about Lucy Shea.
Date: Tuesday 19 January 2021
Time: 15:00-16:00 GMT
EPISODE SPONSOR

FUTURE EPISODES
You can look forward to hearing from a selection of brilliant speakers throughout the year! Episodes and speakers will be updated and added to the BCI website inthe coming weeks and months. Keep checking back for new sessions.