USA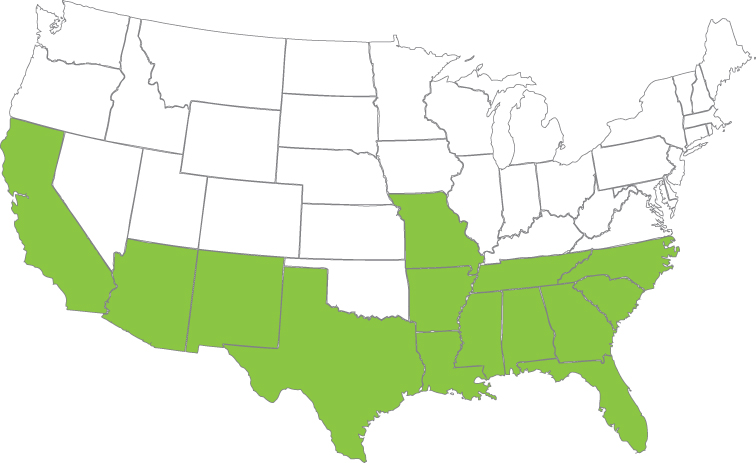 The United States is the third-largest cotton producing country in the world, and its cotton quality is highly prized by the global textile industry. While American cotton farmers use advanced production methods, they still face sustainability challenges like herbicide resistance, soil erosion, and regional irrigation water shortages.
In response to demand from our members, retailers, suppliers and interested farmer groups, we launched a Better Cotton programme in the United States in 2014. Since then, we have been working closely with the American cotton industry to grow the US Better Cotton supply chain.
Who grows Better Cotton?
In the 2017-18 cotton season, 360 licensed BCI farms in 14 states produced 245,000 metric tonnes (1.1 million bales) of Better Cotton on 218,000 hectares – accounting for 5% of US cotton production.
See estimates for the 2018-19 cotton season here.
Major merchants are now actively trading US Better Cotton, and many major North American suppliers and manufacturers are joining BCI in response to strong demand from BCI Retailer and Brand Members. A listing of North American BCI Members can be found here.
Most US farms growing Better Cotton participate as part of an assurance group, in which a group manager—typically from a coop, merchant, gin, or grower association—provides farm-level support, gathers data, conducts farm visits, and coordinates independent 3rd party verification. This approach ensures the integrity of the Better Cotton Standard System while accounting for the country's advanced growing practices and strong regulations. For more information please contact the US office.
Sustainability challenges
Despite many advances over the years, American cotton farmers still face sustainability challenges. In many parts of the US Cotton Belt, farmers are struggling to manage weeds that have developed resistance to common herbicides, making it necessary to use different materials and/or herbicide rotations to mitigate resistance. California, known for its long-staple varieties, has experienced a multi-year drought, making irrigation water both scarce and costly. In other regions, like West Texas, water tables are falling, compelling farmers to invest in more efficient irrigation methods, or transition to less water-intensive crops. Some Better Cotton farmers are installing drip irrigation, which can reduce irrigation water needs by up to 50%.
BCI's long-term goals include supporting US farmers in addressing these and other sustainability challenges and improving their performance.
Who are BCI's Implementing Partners in the US?
BCI's Implementing Partners in the United States include Allbright; Allenberg-ProCot; Cargill; ECOM; Loeb & Sons; PCCA; Quarterway; and StaplCotn.
Stories from the Field
Find out how BCI Farmers are standing at the forefront of soil conservation. Read more.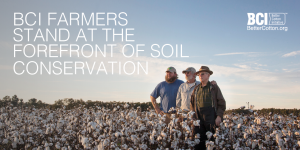 Hear what others say about BCI
Business case for US producers
BENEFITS OF BEING PART OF BETTER COTTON
Meet a global standard that demonstrates your farm's commitment to safeguard the environment, and the health and well-being of farmers, farm workers and their communities.
Join a global effort to protect and improve the long-term viability of the cotton industry.
Meet rising brand, retailer and consumer expectations for transparency regarding cotton production practices.
BENEFITS FOR US FARMERS
Meeting a global industry standard for sustainability: The Better Cotton Principles and Criteria are developed and overseen by a multi-stakeholder body comprised of major retailers and brands, farmers, suppliers and civil society organisations. BCI is the largest cotton sustainability programme in the world and in the 2016-17 season Better Cotton was grown by 1.5 million farmers and accounted for 12% of global cotton production. This coordinated program includes core criteria that all growers must meet to market Better Cotton, as well as improvement indicators that allow growers to benchmark and improve their sustainability performance over time. These real-world benchmarks allow farmers to compare their own operations' performance – in integrated pest management, soil, water and habitat conservation, for example – to their peers.
The long-term sustainability of the cotton industry: As consumers, retailers and brands demand greater transparency about the sustainability characteristics of what they purchase, participation in BCI can boost cotton's social and environmental profile. Cotton farmers and their supporting organisations have a vital interest in adopting and promoting sustainable practices to ensure consumer demand for cotton products is not negatively impacted by concerns about how the raw material is produced.
Access to new customers: BCI is supported by some of the strongest brands, retailers and traders in the world: BCI's membership based grew by 21% in 2017 to 1,197 members from 51 countries. Many of these companies are setting aggressive targets for Better Cotton purchases. Being part of BCI gives cotton farmers access to this growing new market and customers. US cotton growers and suppliers who move quickly to join BCI and grow Better Cotton may gain an initial competitive advantage by being early adopters, and having first access to growing markets for US grown Better Cotton.
Public and investor confidence: Undergoing BCI-licensing demonstrates a farm's commitment to managing the environmental and social impacts of cotton farming, an increasingly important consideration for bankers and investors which may assist in both capital raising and debt financing. Being BCI-licensed can also enhance the farm's reputation and help protect against reputational risks.
How to become a US Better Cotton grower
Whether as an individual farm, or part of a group, the steps for becoming a BCI farmer are similar.
STEP 1: OPT-IN
Simply tell BCI you are interested in becoming licensed, provide a short description of your farm, your cotton acreage, and production estimates for the season. Email: april.kappler@bettercotton.org .
STEP 2: COMPLETE ONLINE SELF-ASSESSMENT
In July, we'll email you a set of questions about your farm management. Based on the BCI Production Principles & Criteria, these questions relate to IPM,  labor, soil, habitat, worker safety, and water.  It takes about 20-40 minutes to complete.
STEP 3: HOST A VERIFICATION VISIT
Trained 2nd- and 3rd-party verifiers confirm a farm's compliance with BCI's minimum criteria, and performance on improvement criteria. 3rd-party verification costs vary with farm size, travel, and the number of farm audits in an area.
STEP 4: RECEIVE A BETTER COTTON LICENSE
If your farm meets the minimum requirements, you will receive a license to market Better Cotton. Farms enrolling individually receive a 1-, 3- or 5-year license per their improvement criteria scores. Group-member farms that meet the minimum requirements typically all receive a 3-year license.
STEP 5: SUBMIT YOUR RESULTS
Within 12 weeks of harvest, submit your final production figures to BCI, with total water, fertilizer and pesticide applications for the season's cotton crop. Individual farm data is never shared, published or reported. BCI combines data at the country level only in our harvest reporting, available on our Reports page.
For more information:
Better Cotton Standard System
Better Cotton Production Principles and Criteria
Q&A About The Better Cotton Initiative