Turkey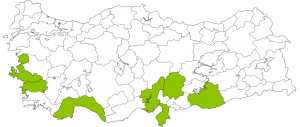 In 2011, leading actors in the Turkish Cotton Sector approached BCI with the aim of starting production of Better Cotton in Turkey.
After a period of substantial research, preparation of reports, meetings and workshops, it was agreed that the most effective way to start producing Better Cotton in Turkey was to establish a Non-Governmental Organisation to represent multiple stakeholders. As a result, İyi Pamuk Uygulamaları Derneği – IPUD (the Good Cotton Practices Association) was founded in September 2013. IPUD's mission is: "to Improve cotton production in Turkey for the benefit of cotton producers and the regions where cotton is grown and for the future of the sector."
Who grows Better Cotton? 
In the 2017-18 cotton season, 791 licensed BCI Farmers in Turkey produced 41,000 metric tonnes of Better Cotton lint on 20,000 hectares.
Looking ahead, the ambitious target is to double Better Cotton production each year. The long-term objectives are to reverse the decrease in Turkish cotton production, and to expand Better Cotton production to every cotton-producing region in Turkey.
Who is BCI's Strategic Partner in Turkey? 
As BCI's Strategic Partner, IPUD is responsible for the implementation of Better Cotton Standard System and the production of Better Cotton in Turkey. IPUD is also focused on creating Better Cotton supply and demand in Turkey and along with its diverse membership base – which includes farmers, ginners, agricultural sales unions, manufacturers, civil society organisations and other industry actors – communicates across the sector in order to ensure the transformation of Turkish cotton into a sustainable mainstream commodity.
When is cotton grown in Turkey? 
In Turkey, cotton is sown from April to June, and harvested from September to November.
Stories from the Field
Find out how IPUD is helping cotton farmers to promote decent work in Turkey. Read more.