India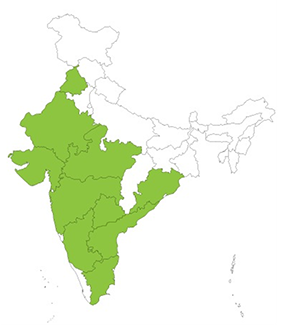 India has been producing cotton for textiles for thousands of years and the textile industry and agriculture are the key industries to have generated huge employment for both skilled and unskilled labour, helping to strengthen the country's economy. The cotton sector is considered to be the second most developed sector in the textile industry (after man-made fibres), and India is now the second largest producer of cotton in the world (after China), producing around 18% of the world's cotton. It also has the largest area under cotton cultivation in the world, representing about 25% of the world area under cotton cultivation. For Better Cotton to become a sustainable mainstream commodity, it is vital that BCI continue to work closely with the Indian Better Cotton supply chain as our membership base continues to grow, to give all members access to this significant market.
Who grows Better Cotton?
In the 2017-18 cotton season, 575,725 licensed BCI Farmers in India produced 572,000 metric tonnes of Better Cotton lint on 905,000 hectares.