The Better Cotton Initiative's approach is geared toward ensuring that as many farmers as possible gain access to knowledge and tools to improve the environmental, social and economic sustainability of cotton production. We want farmers, their families and communities to experience the benefits of more sustainable production. By 2020, we aim to reach 5 million farmers and ensure that Better Cotton accounts for 30% of global cotton production.
At the same time, BCI plays an important role in growing demand for more sustainable cotton. Strong demand is a key part of the business case for farmers to pursue any sustainability-related designation or certification. Last year, we saw a historic level of uptake, with 736,000 metric tonnes of Better Cotton claimed by BCI Retailer and Brand Members – a 60% increase on 2016. At the end of 2017, 42 of 85 retailer and brand members communicated public, time-bound commitments to source 100% of their cotton more sustainably. This momentum is important because, while approximately 15% of cotton is grown more sustainably, only around a fifth of this is actively sourced.[1]
In order to create systemic change within the sector and drive it towards sustainability, BCI recognises the importance of complementing and supporting other responsible cotton efforts. There are millions of farmers without access to training and capacity building on sustainable agricultural practices. Certifications, standards, licensing and other responsible cotton initiatives are working towards the same goal by providing essential support and training at farm-level. To meet their publicly declared sustainable cotton targets, we believe retailers and brands should support these efforts by developing a diverse portfolio, containing a variety of options, such as Better Cotton, Fairtrade, Cotton Made in Africa and organic cotton. To that end, BCI has recognised three other standards as equivalent to the Better Cotton Standard, eliminating duplication and inefficiencies in the market.
BCI is also a proud member of Cotton 2040 – a cross-industry partnership that brings together retailers and brands, cotton standards and industry initiatives to align efforts in priority areas for action. One fellow participant in Cotton 2040 is the Organic Cotton Accelerator (OCA), which unites industry players to grow a prosperous organic cotton sector. Whilst we are working together through Cotton 2040, BCI and OCA are exploring concrete ways that we can strengthen each other's efforts and reframe the conversation around Better Cotton and organic cotton. This work recognises the global cotton sectors diversity and the value that sustainable cotton brings to farmers, brands and retailers and consumers. "There is plenty of market opportunity and demand for all cotton sustainability standards and certifications to grow and collectively drive the change that is necessary for the sectors longevity," says OCA Executive Director, Crispin Argento. Imagine a sector where instead of 5 or 10 million farmers using more sustainable practices, 50 or 60 million, or one day, all farmers around the world were growing cotton responsibly, and benefiting from implementing improved practices.
As OCA has stated publicly, this is not a zero-sum game, and we couldn't agree more. Increased production and demand of all sustainable cotton standards means improved environmental, social and economic conditions for more farmers. It creates movement from the niche to the mainstream and drives change that is both profound and lasting. BCI and OCA have begun to sit down and grapple with the key links that exist between both organisations' approaches. We are hopeful that we can find ways of working together that ignite further change within the industry. In the coming year, stay tuned for news on how our joint efforts are evolving.
[1]Sustainable Cotton Ranking 2017 – WWF, Solidaridad and Pesticide Action Network UK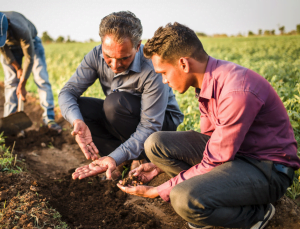 Read more