Narjis Fatima, Field Facilitator, WWF-Pakistan
From an early age, Narjis developed a special love and affinity for agriculture and nature. Her mother, who was a cotton picker and a leader for women workers' rights, inspired her to support women in the cotton sector. WWF-Pakistan appointed her as a Field Facilitator in 2018. Narjis has since trained countless women from the local villages and communities on better cotton-picking practices.  
What inspired you to work with women in the cotton sector?
Agriculture being our family business, I loved it since childhood. My father was a farmer, and my mother was a cotton picker. After completing my studies, I used to go cotton picking with my mother. Along with cotton picking, my mother was also a leader for women workers' rights. Some of the farmers either used to pay fewer wages or did not provide clean drinking water and she wanted to change this. I was inspired by my mother's commitment to workers' rights, and I wanted to do something for the workers too.  
What motivates you in your role as a Field Facilitator?
The aim of our project is to promote Better Cotton cultivation to make cotton production better for the grower, better for the environment and better for the cotton industry. By training women workers on the principles of Better Cotton, I can play my role in producing sustainable cotton, and I can improve their social and economic resources. I can also contribute to the benefits of innovation in agriculture and play a role in saving nature. That's why I wish to drive innovation in agriculture to provide a brighter future for my children. I love nature so much that I want to work for its survival.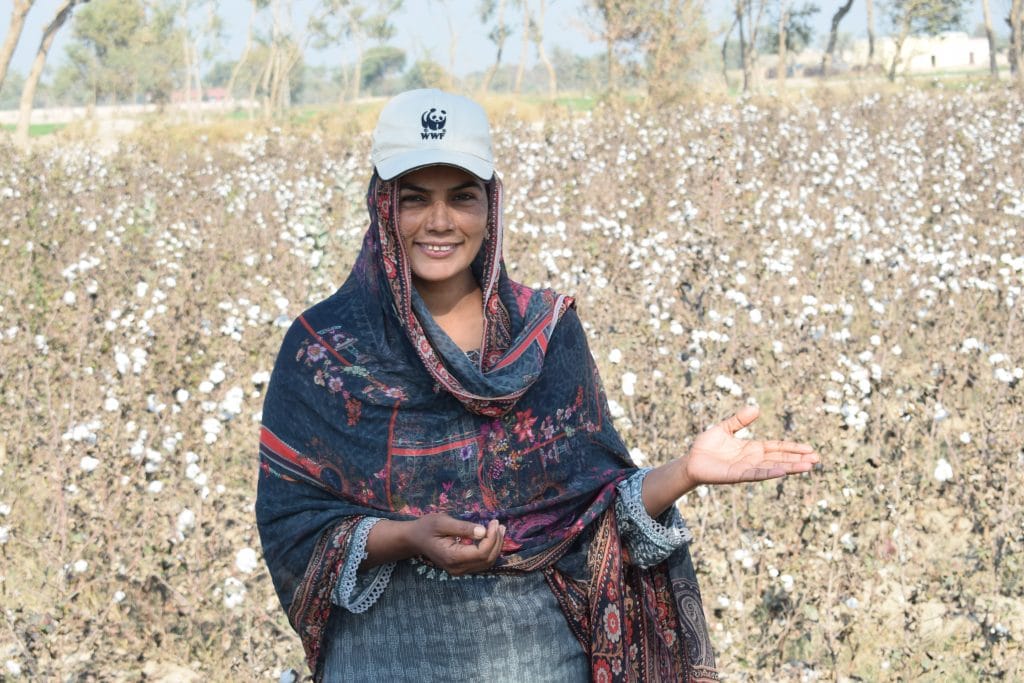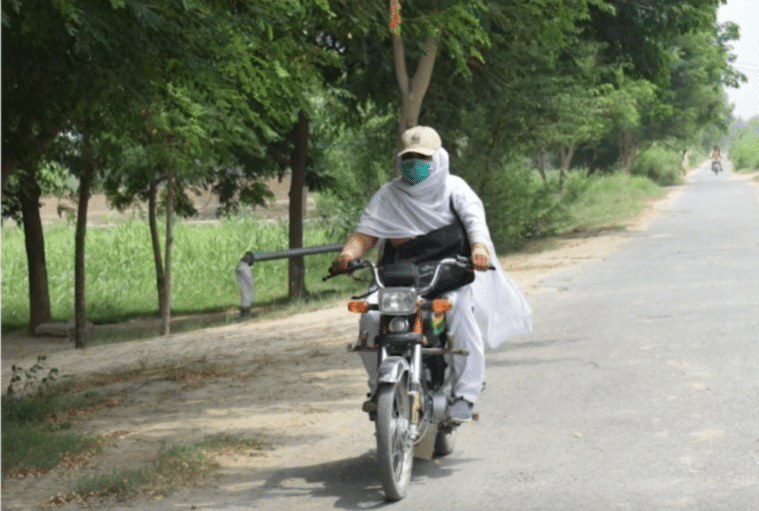 Can you tell us about one of the biggest challenges you've had to face as a woman in the cotton sector?
When I started working for WWF-Pakistan, I faced a lot of problems because my family did not want me to work. No one from my family would take me to the field and there was no public transport facility in our area. I had to learn how to ride a motorbike by myself. I fell several times and suffered many injuries, but I did not give up. In the end, all my hard work paid off. I have been riding my motorbike for three years now and going to the field on my bike has inspired a lot of other women.
Can you share any examples of new practices that have led to positive change?
We train women workers on the benefits of using personal protective equipment when working in the field. We show them how to cover their head before picking, use face masks, cover their hands with gloves and use cotton cloth for cotton picking. I am very glad that so many women are now following safer practices.
What are your hopes for the cotton communities you work in?
I hope that our training will encourage more children to go to school and that our cotton growing society will grow their cotton in line with the Better Cotton Principles. I also hope that workers' rights will be respected, and natural resources not misused. I hope that our cotton community will protect the environment and adopt water saving methods, protect biodiversity and pay equal wages. I hope that no one will ever be discriminated against based on their caste, colour, race, or religion. Finally, I hope that workers will have freedom of association and women will have equal rights with men.
Read more