Retailer and Brand Membership
Apparel & Home Membership: includes any for-profit organisation selling cotton based goods directly to consumers.
Travel & Leisure Membership: includes any for-profit organisation using cotton based goods as part of the services they provide.
Membership benefits
Joining BCI offers a way for progressive retailers and brands to take decisive steps towards securing a more sustainable future for mainstream global cotton production.
What it means to be a member
Being a member of BCI means being part of creating impact and supporting the BCI mission as part of your organisation's involvement in cotton. As a BCI Retailer and Brand Member, you are committed to improving cotton production through engagement, sourcing and payment of related fees so that the field expansion of Better Cotton can be funded. For retailers and brands, BCI involvement means establishing a company-wide, credible responsible sourcing programme.
Members are fully engaged with BCI, source cotton as Better Cotton, and contribute to supply creation by paying related volume-based fees. They communicate about Better Cotton, access all BCI benefits such as the Better Cotton Platform, BCI field data, and results, and they have access to the Better Cotton Claims Framework and the On-Product Mark guidelines.
Whether Apparel and Home, or Travel & Leisure, both subcategories are a part of the Retailer and Brand category. BCI Retailer and Brand Members participate in BCI's General Assembly and Council and have the opportunity to influence processes and discussions at BCI. BCI Council positions are open to all members (except for Associate Members), and Retailer and Brand Members hold three seats in the BCI Council.
Members are also required to comply with:
BCI Code of Practice (for commercial members).
Membership fees
Membership fees for retailers and brands are based on total cotton footprint, that is, the previous year's total cotton lint consumption. Download the BCI Membership Fee Structure for retailers and brands.
In June 2016, the BCI Council approved new membership fees as of 1 January 2017. *In June 2020, the BCI Council voted to extend all current membership fees through 2021. All BCI Membership Fees are invoiced in Euros (€) only.
If you are unsure of how much cotton lint your company uses BCI would be happy to offer some guidance, please contact [email protected].
Membership application form
Download the Retailer and Brand membership application form.
Further details on the application process can be found below.
How to Join
To apply for BCI membership, simply complete an application form for your category. Download the application form, or email your request to: [email protected].
Application process:
1. Send us your application form with the requested supporting information, including your total cotton consumption.
2. We receive and acknowledge receipt of your application form and check that it is complete.
3. We carry out due diligence research, to ensure there are no outstanding issues that can create reputational risk for BCI.
4. We collate and analyse the results, and provide the BCI Leadership Team with a recommendation for approval.
5. The BCI Leadership Team reviews the application and provides a final approval decision.
6. We send you an invoice for fees, and you are listed on the Member Only section of our website for BCI Members, under New Members' Consultation.
7. On payment of your membership invoice you become a member-in-consultation for 12 weeks during which time you have full access to all membership benefits.
8. If no issues arise during member consultation, you are a member of BCI; we will communicate with you in case any issues are raised during consultation.
9. If your membership consultation results in membership being revoked, all fees paid to BCI will be refunded.
Please note that the entire process can takes up to 13 weeks from receipt of a completed application form.
BCI Membership Roadmap for Retailers and Brands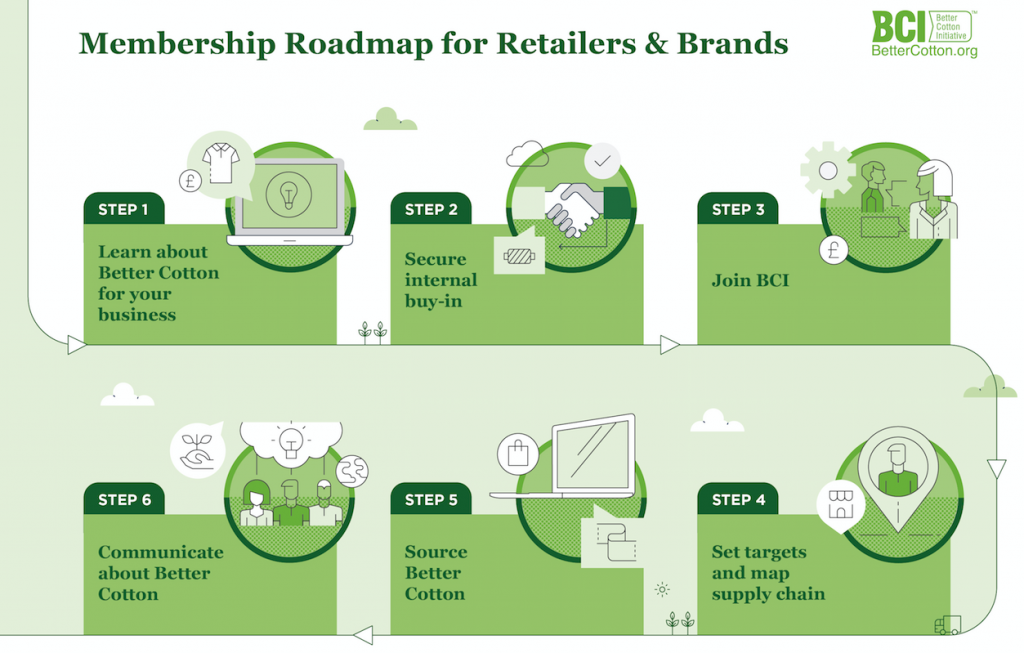 You can find a more detailed roadmap here.