Better Cotton's Theory of Change explains our intended impacts, their contribution to wider sustainability goals for the cotton sector, and the related pathways and supporting strategies required to achieve our mission: sustainable livelihoods, enhanced environment and improved quality of life for cotton-farming communities.
The Better Cotton Theory of Change is under review in 2021. A revised version, which will reflect Better Cotton's new 2030 strategic phase, will be launched in 2022.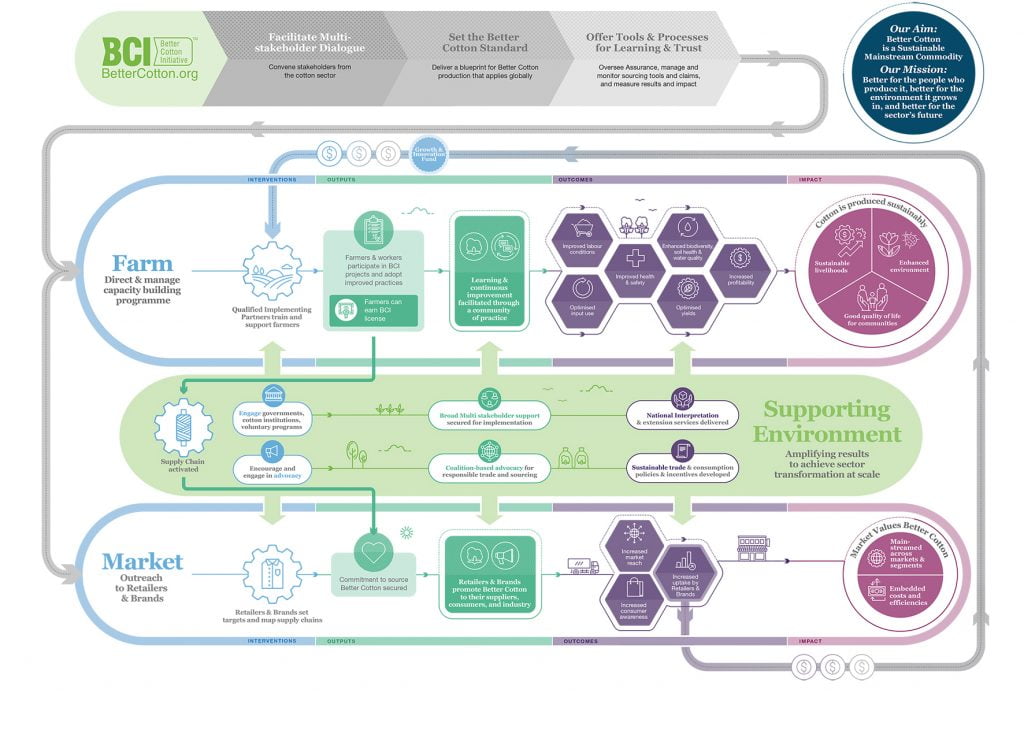 Our Theory of Change includes two impact pathways – the farm and market areas – and a set of supporting strategies in the supporting environment designed to deliver desired outcomes and impacts.
At the farm level, Better Cotton engages and supports qualified Programme Partners through its partnerships and capacity building programmes. These partners are an essential link in adapting Better Cotton's global standard and approaches to highly diverse local contexts in which cotton is cultivated. In this farm impact pathway, Better Cotton Programme Partners train and support farmers to adopt more sustainable production, or farming, practices that enable them to grow cotton in a way that promotes decent working conditions, enhances the environment and brings benefit to their communities. 
At the market level, Better Cotton works with its Retailer and Brand members to set their Better Cotton sourcing commitments, who in turn engage their supply chains to meet these targets.
Based on their declared purchases of Better Cotton, retailers and brands then pay volume-based fees that are used to support Programme Partner farmer training and support projects.
Engaging in the supporting environment is important to ensure that the efforts of Better Cotton and its partners can be amplified at scale – via government embrace of our approaches and/or policy changes to facilitate more rapid farmer adoption of more sustainable practices. Moving forward, this will be a major focus in our supporting strategies.
The Better Cotton Standard System and its six components defines Better Cotton, provides the processes and mechanisms to ensure the credibility of its interventions and confidence in the results and impacts achieved, measured and reported.