Coronavirus Update
BCI works with six Implementing Partners and more than 360,000 BCI Farmers in Pakistan.
BCI Implementing Partners (on-the-ground partners in charge of delivering the BCI Programme) are supporting BCI Farmers through the pandemic by reaching out and raising awareness of Covid-19 amongst farming communities, distributing personal protective equipment including face masks and hand sanitisers, and delivering training on Covid-19 prevention and protection, as well as more sustainable farming practices.
For the safety of field staff and BCI Farmers, BCI training and capacity building programmes have transitioned from in-person to online.
To support the agricultural sector, the Punjab government has offered interest-free loans and crop insurance to 250,000 farmers.
Find out more about what is happening on the ground in Pakistan in the following Q&As with Implementing Partners.
Here we speak with three BCI Implementing Partners in Pakistan – REEDS, Sangtani Women Rural Development Organization and WWF-Pakistan – to find out more about how they are supporting BCI Farmers and farming communities during the Covid-19 pandemic.
WWF-Pakistan
BCI has worked with WWF-Pakistan for a decade to help farmers produce cotton in a more sustainable way. Here WWF-Pakistan outlines some of the short and long-term impacts of Covid-19 for BCI Farmers.
What does WWF-Pakistan think the impact of the Coronavirus pandemic will be for cotton farmers in Pakistan?
At the beginning of lockdown, all agriculture-related businesses were temporarily closed, which meant certain farming inputs such as fertilisers were unavailable to farmers. As a result, the cotton sowing season was delayed. As the season gets underway, albeit later than usual, a key challenge now is that farm workers, and female workers in particular, are struggling to gain employment. As the pandemic and lockdown continue to cause uncertainty and disruption in the global markets, it is having a knock-on impact on the price of cotton. Farmers are unfortunately receiving lower than average prices for their cotton, which means they cannot afford to hire as many labourers this season. In the long-term, the uncertainty of international markets will continue to impact local markets.
Why do cotton farmers need support from WWF and BCI during this time?
Since the beginning of the Covid-19 outbreak, WWF-Pakistan has been raising awareness amongst rural farming communities in some of the most remote areas across the country. We are running awareness campaigns, both online and in the field, and we have been taking action to ensure we get the right information to the communities that are most vulnerable to the impacts of Covid-19. We are also supporting farmers, especially those whose livelihoods and incomes have been affected by the pandemic, by providing personal protective equipment such as face masks and hand sanitiser. Maintaining our relationship with farmers throughout the pandemic is our main priority.
Can you share an example of a Covid-19 awareness campaign led by WWF-Pakistan?
In Muzaffargarh, our awareness campaign involves sharing information about Covid-19 in the local Saraiki language. We want to educate farming communities about Coronavirus to help them combat the disease in an effective manner. Information about the symptoms and precautions to take against the virus, like hand washing, social distancing and the use of face masks, has been disseminated by WWF-Pakistan field staff. Additionally, they distributed 1,000 face masks and 500 pairs of gloves among the rural farming communities to help protect them from the virus.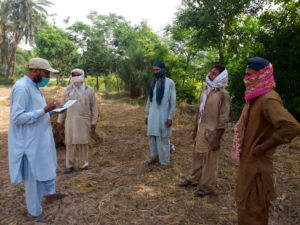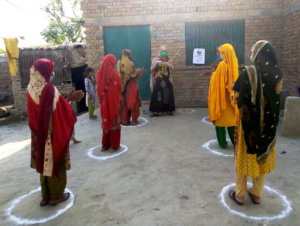 REEDS
The Coronavirus pandemic and related travel and social distancing restrictions forced many of BCI's Implementing Partners to adjust and quickly adapt their approach to delivering farmer training. In Pakistan, Implementing Partner REEDS worked quickly and effectively to transition from in-person to online training.
Tell us more about REEDS' move to online farmer training.
We wanted to ensure capacity building and knowledge sharing programmes for field staff and BCI Farmers were not disrupted, but we also needed to find a safe way to deliver our programmes. With the support of one of our key stakeholders, Fauji Fertilizer Company, we first trailed a one-day online seminar on the topic of "profitable cotton production'. We were delighted that 213 BCI Farmers from Sindh and Punjab, as well as field-level REEDS' staff responsible for training farmers on sustainable agricultural practices, joined the session.
How will REEDS continue to roll out online training?
Since the first trial training session, we have delivered online training sessions on Covid-19 prevention methods, such as hand washing, the use of sanitisers, wearing face masks and social distancing. REEDS staff and subject experts have also delivered virtual training on cotton production technology, with a special focus on providing balanced nutrients for cotton crops. Farmers were able to ask their questions directly to subject matter experts. We received such positive feedback from the farmers attending the session, that we have now purchased software which allows us to deliver online training to 300-400 participants at once.
"Everyone has embraced the unexpected changes and moved quickly to develop new solutions. All field staff and BCI Farmers should have access to the tools required for virtual capacity building and knowledge sharing." – Mr. Zika U Din, Head of Agriculture Services, Fauji Fertilizer Company.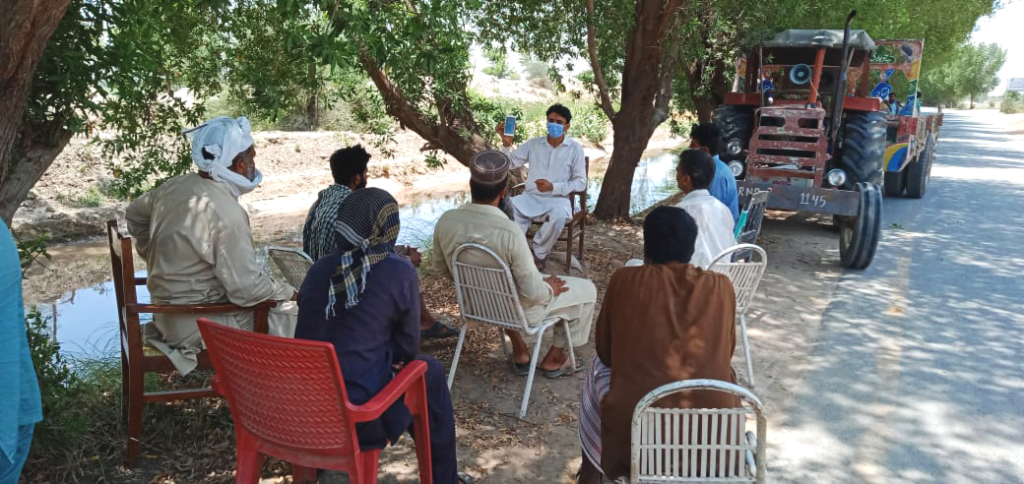 Sangtani Women Rural Development Organization (SWRDO)
SWRDO is a non-profit organisation working for the promotion of human rights, quality education, health services and support for marginalised and poor families. The organisation has been a BCI Implementing Partner in Rajanpur District, Punjab, since 2017.
What actions are SWRDO taking to support BCI Farmers through the Coronavirus pandemic?
At SWRDO, we are vigilant about the health and safety of both our staff and BCI Farmers – they are our utmost priority. SWRDO currently reaches 28,624 licensed BCI Farmers and 7,700 female farm workers. To minimise the health and safety risks posed by Covid-19, SWRDO equipped all staff members, including all field staff, with personal protective equipment (PPE) kits, containing face masks, gloves, goggles and hand sanitiser.
Do you have any particular outreach programmes in place for farmers?
Our female Field Facilitators (field-based staff, employed by SWRDO, who deliver on-the-ground training to farmers) are busy providing PPE kits to 7,700 female farm workers to protect them while they carry out their work this cotton season. While delivering training on enhanced farming practices, such as clean cotton picking— which helps farmers to achieve a higher price for their cotton — our Field Facilitators are also educating farmers and farm workers on how to take precautions against Covid-19.