As of 20 March 2020, the Global Cotton Sustainability Conference in Lisbon moved from 9-11 June 2020, to be hosted on 2-4 March 2021. The decision to postpone was in response to the Covid-19 pandemic and its global impact on health and travel.
&nbsp
In just a few months' time, the 4th annual Global Cotton Sustainability Conference will take place in Lisbon. Farmers, brands, manufacturers, suppliers, NGOs, civil society organisations, agricultural experts and researchers will meet to collaborate on a more sustainable future for cotton.
Ahead of the conference, we caught up with the keynote speakers to gather their insights on key industry challenges and the innovations they are particularly excited about right now.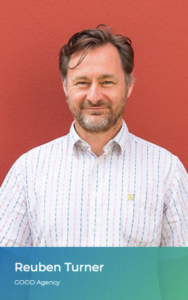 Meet Reuben Turner, Creative Partner and Founder, GOOD Agency
Reuben Turner has a long and distinguished background in marketing and advertising for social purpose. He is co-founder of London-based creative agency GOOD, one of the first agencies founded with social, ethical and environmental principles at its core.
As well as having worked with a number of leading NGOs, Reuben focuses on helping commercial brands understand, define and grow through social purpose, with current clients including Pernod Ricard, the Kingfisher group and leading fashion brand ESCADA.
How have approaches to defining and communicating an organisation's purpose changed over time?
For a long time, an organisation's "purpose' was primarily about statements, manifestos or mood films. Although business leaders understood the need to have an organising principle that would make an emotional connection with stakeholders, staff and customers, they saw it primarily as a brand or positioning project. That led us to the era of "purposewash', where brands would make emotive claims to stand for things or awkwardly link themselves to social issues.
How damaging is "purposewash'?
In an era of accelerate climate change, social division and structural inequality, such claims are rightly being seen as superficial, and it's arguably added to the cynicism and distrust that so many people feel towards business. Simply put, we don't have time for "purposewash' anymore. It's not solving the corporate world's trust issue.
How can organisations get it right?
Today, there's a new breed of business leaders who understand that statements are the start, not the end of the purpose journey. What actually matters is what businesses DO: the actions they take, the policies they change, the product innovations they invest in and the ways in which they help customers live healthier, more sustainable and equitable lives. These are all things that people care far more about than adverts.
Are there any innovative approaches to communicating purpose which you are particularly excited about right now?
I've been talking for a couple of years about the dynamic of "ally brands' – these are brands that reject traditional leadership principles and think deeply how they can authentically be an ally to groups that need them. That could be working mothers struggling to make themselves heard at work or marginalised communities around the world. Ally brands grow their power and influence by seeing and sharing it. That's counterintuitive to most brand thinkers but it's a fundamentally important role in an unequal world.
You can hear Reuben Turner speak at the Global Cotton Sustainability Conference, which has been moved to 2-4 March 2021 in light of the global Covid-19 pandemic.
Find out more and register here.
Read more