China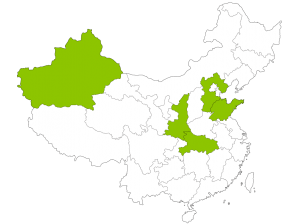 Read more about BCI's presence in Western China in the dropdown boxes below.
As both the world's largest cotton producer and a major consumer of cotton, China is a key country for Better Cotton. Sustainable cotton production is a major challenge here, with 24 million farmers depending on cotton cultivation to earn a living and the environmental footprint this represents.
A BCI Representative Office was registered in Shanghai in May 2012 and is recognised in China as a Swiss Trade Association. This structure was chosen to help guarantee the success of Better Cotton in China.
Who grows Better Cotton?
In the 2017-18 season, 79,093 licensed BCI Farmers in China produced 1,188,000 metric tonnes of Better Cotton lint on 524,000 hectares. BCI Farmers in China are organised into large farms that are either renting land from the state or from rural collective economic organisation.
Announcement: BCI Suspends Licensing in Western China
11 March 2020
BCI is suspending its assurance activities in the Xinjiang region of China for the upcoming cotton season (2020-21) based on the recognition that the operating environment prevents credible assurance and licensing from being executed.
BCI assurance activities for the last season finished in September. There will be no licensed Better Cotton from Xinjiang next season (2020-21).
BCI Review and Expert Task Force in 2020
BCI has contracted a recognised global expert to conduct an external review to document the situation in Western China, evaluate the risk level and propose mitigation and remediation steps, which include supporting BCI's efforts to define the criteria that must exist before assurance activities can resume in the region.
In addition and with a global focus, BCI is establishing an expert, multi-stakeholder Task Force on Forced Labour and Decent Work to develop recommendations for the BCI Programme and to ensure we operate with integrity – and in accordance with clearly defined environmental and social criteria – everywhere we work. The Task Force is made up of experts as well as representatives from our membership categories and includes organisations such as Solidaridad, Ergon and Impactt. We will share the full list of Task Force participants on the BCI website later this month.
BCI had initially planned to share key recommendations from both the external review and the Task Force in July 2020. Travel constraints imposed by the COVID-19 pandemic have interrupted the Task Force's meeting schedule, requiring more video conferencing spread out over a longer period. The timeline to communicate these recommendations has, therefore, been revised, and they will now be shared in October 2020.
Support for Farmers
Cotton is grown in areas of the world with formidable challenges, both environmental and social. BCI's mission dictates that we operate in many of these regions, therefore, we must manage complex, socio-political and economic conditions in order to deliver support and interventions where they will have the most impact.
While we will not license any Better Cotton from Xinjiang for the coming season, we will continue to support farmers in the region during this period.
We remain committed to our mission: to make global cotton production better for the people who produce it, better for the environment in which it grows and better for the sector's future. These actions put us in a better position to further that mission while upholding the high standards rightly expected by BCI stakeholders. We will continue to engage with all concerned parties and experts to adapt and respond to challenging contexts so that we can further support farming communities and promote more sustainable practices.