China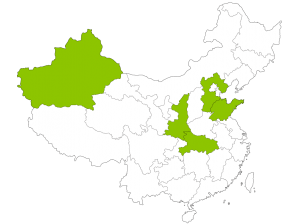 As both the world's largest cotton producer and a major consumer of cotton, China is a key country for Better Cotton. Sustainable cotton production is a major challenge here, with 24 million farmers depending on cotton cultivation to earn a living and the environmental footprint this represents.
A BCI Representative Office was registered in Shanghai in May 2012 and is recognised in China as a Swiss Trade Association. This structure was chosen to help guarantee the success of Better Cotton in China.
Who grows Better Cotton?
In the 2017-18 season, 79,093 licensed BCI Farmers in China produced 1,188,000 metric tonnes of Better Cotton lint on 524,000 hectares. BCI Farmers in China are organised into large farms that are either renting land from the state or from rural collective economic organisation.