China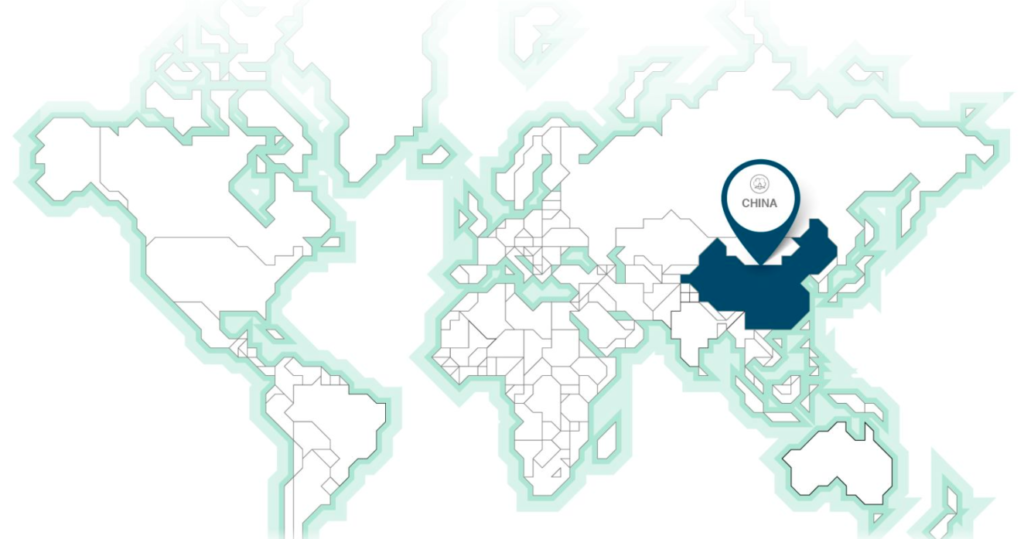 .
As both the world's largest cotton producer and a major consumer of cotton, China is a key country for Better Cotton. Sustainable cotton production is a major challenge here, with 24 million farmers depending on cotton cultivation to earn a living and the environmental footprint this represents.
A BCI Representative Office was registered in Shanghai in May 2012 and is recognised in China as a Swiss Trade Association. This structure was chosen to help guarantee the success of Better Cotton in China.
Who grows Better Cotton?
BCI Farmers in China are organised into large farms that are either renting land from the state or from rural collective economic organisations.
In the 2018-19 cotton season, 81,04 licensed BCI Farmers in China produced 896,000 tonnes of Better Cotton lint on 431,000 hectares.
Find out more about the success, challenges and key changes that happened in the 2018-19 cotton season in the Better Cotton Country Snapshots.
Who are BCI's Implementing Partners in China? (2020-21 cotton season)
BCI works with a number of Implementing Partners in China including: Cotton Connect China, Huangmei Huinong scientific and technology planting and breeding professional cooperative, Shandong Binzhou Nongxi Cotton Professional Cooperative, Solidaridad (Shanghai) Agricultural Technology Development Company Limited and Songzi City Nanwuchang Grain, cotton and oil professional Cooperative.
When is cotton grown in China?
Cotton is sown throughout the month of April and harvested from September to November.
Western China Resources for BCI Members
BCI Members can stay informed of the latest developments related to the BCI Programme and its implementation in Western China here.
Xinjiang Uyghur Autonomous Region (XUAR) Update
Last updated: 21 October 2020
Sustained allegations of forced labour and other human rights abuses in the Xinjiang Uyghur Autonomous Region (XUAR) of China have contributed to an increasingly untenable operating environment, and BCI has, therefore, taken the decision to cease all field-level activities in the region effective immediately, including capacity building and data monitoring and reporting.
In March 2020, BCI suspended licensing and assurance activities in the XUAR, and as a result, there is no new licensed Better Cotton coming from the region. Until circumstances change, we will focus our efforts in China in the eastern provinces where BCI has existing programmes: Hubei, Hebei, Shandong and Gansu.
BCI has, for the past eight years, trained Chinese farmers, including Uyghur and Han farmers in the XUAR, on practices that cover our seven core principles on more sustainable cotton production. These include minimising the harmful impact of pesticides and crop protection practices, promoting water stewardship, caring for health of soil, using land responsibly, preserving cotton fibre quality and promoting decent work.
"We look forward to the day when we can again deliver the BCI mission by providing capacity building for all farmers," commented Alan McClay, BCI CEO. "We will re-evaluate our engagement in the XUAR when the operating environment permits."
Among a variety of factors that contribute to a challenging operating environment is the recent sanctions order issued by the U.S. Treasury Office of Foreign Assets (OFAC) banning transactions with the Xinjiang Production and Construction Corps (XPCC) and its majority-owned subsidiaries. In the past, XPCC had been a BCI Member and Implementing Partner, however, this relationship was terminated in January, prior to the U.S. sanctions. BCI has taken additional actions and due diligence to comply with the OFAC sanctions. While the latest decision from the BCI Council means that field-level activities of all types have ceased effective immediately, Chinese companies from or affiliated with the province that are not blocked by current OFAC sanctions can remain BCI Members and users of the Better Cotton Platform.