China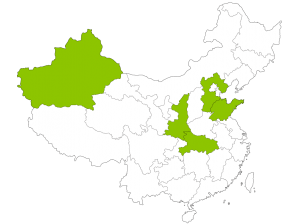 As both the world's largest cotton producer and a major consumer of cotton, China is a key country for Better Cotton. Sustainable cotton production is a major challenge here, with 24 million farmers depending on cotton cultivation to earn a living and the environmental footprint this represents.
A BCI Representative Office was registered in Shanghai in May 2012 and is recognised in China as a Swiss Trade Association. This structure was chosen to help guarantee the success of Better Cotton in China.
Who grows Better Cotton?
In the 2017-18 season, 79,093 licensed BCI Farmers in China produced 1,188,000 metric tonnes of Better Cotton lint on 524,000 hectares. BCI Farmers in China are organised into large farms that are either renting land from the state or from rural collective economic organisation.
Summary of BCI Xinjiang Roadmap
January 2019
BCI is aware of reports from civil society organisations and media that include accusations of involuntary labour from ethnoreligious minorities (including Uighurs) during or following internment in "re-education camps" in the Xinjiang province of Western China. To date, there is no direct evidence that demonstrates that forced labour is being used on BCI licensed farms in Xinjiang.
Since respective reports were brought to BCI's attention and after careful consideration, the BCI Council has determined that a continued presence and engagement in the region promoting the Better Cotton Standard System, and its principles of social, environmental and economic sustainability, would continue to benefit local farmers. Thus, BCI's activities in the region should be pursued. The Council has requested that the BCI Secretariat puts in place a concrete action plan to identify, and if necessary, mitigate and manage risks related to the credible implementation of the Better Cotton Standard System while also safeguarding the BCI China team's ability to operate successfully according to BCI's mission.
To that end, the BCI Secretariat has, in consultation with the BCI Council, developed a roadmap that includes two key phases. The first phase will deliver a third-party analysis of the situation by the end of first quarter of 2020. The analysis will be complemented with a list of recommendations for Better Cotton Standard System improvements.
The second phase is designed to use the initial report findings and revise Better Cotton Standard System policies and procedures with the aim of preventing and detecting forced labour. The scope of the revision will be based on the findings of phase one and will likely include:
Policies and procedures for licensing BCI Farmers as well as endorsement and management of on-the-ground partners (Implementing Partners);
Adaptation of the Better Cotton Decent Work Principle and Criteria; and
An enhanced approach to confirming that the membership code of practice is adhered to.
The second phase of the roadmap will begin once phase one is completed. Amendments to the Better Cotton Principles and Criteria may take longer to implement, and if that is the case, the timeline will be updated and communicated to members.
Over the course of the next fifteen months, as activities of the roadmap are executed, the BCI Secretariat will regularly share progress reports with its Council and members and update the BCI website as appropriate.
BCI Statement on Apparel Insider Article
The Better Cotton Initiative (BCI) is aware of an article published by Apparel Insider on 27 November 2019 about our relationship with a BCI Implementing Partner in Xinjiang, China. There are a few points related to the piece that are important for BCI to reiterate and for stakeholders to consider.
Socio-political context
Discrimination and forced labour, of all forms, are unacceptable within BCI programmes. BCI is aware of and concerned by the reports of the current situation in Xinjiang where "re-education" programmes target Uighurs and other ethnoreligious minorities. In considering the challenges presented by this operating context and in weighing up all the options, the BCI Council determined that a continued presence and engagement in the region implementing the Better Cotton Standard System (BCSS), and its principles of social, environmental and economic sustainability, would continue to serve the BCI mission and benefit local farmers. To that end, BCI has developed a concrete plan and roadmap to identify, and if necessary, mitigate and manage risks related to the credible implementation of the BCSS.
Xinjiang Production and Construction Corps (XPCC) Cotton & Linen Company
A key element of BCI's mission is to deliver training and support to cotton farmers around the globe, and our approach is to engage with organisations that are best suited to provide training on sustainable agronomic and social practices. In doing so, BCI works with a variety of implementing partners around the world – from NGOs to supply chain actors and government bodies. BCI, in selecting with whom to partner and where, first and foremost evaluates the potential for contributing to driving more sustainable practices at field level. The BCI model is also built to link the global market with production, and therefore, another critical aspect that weighs into our evaluations is that of market demand and uptake.
Leading up to the start of BCI's engagement with XPCC Cotton & Linen Company in Xinjiang, the BCI Secretariat carried out an enhanced due diligence process, including consultations with third party organisations with expertise on Decent Work. We oversaw an extended assessment, including several field visits and additional gap analyses of the XPCC division's practices against all Better Cotton Production Principles with a specific focus on Decent Work. The focus of the review was on farm-level practices in accordance with the scope of the Better Cotton Standard System. The assessment generated a risk register to guide ongoing monitoring and management of the projects.
The BCI Multi-Stakeholder Council determined that collaboration should be initiated on a pilot-basis for one year, during which period extended monitoring would take place. The BCI Council, and the organisations in the governing bodies of the independent Better Cotton Fast Track Programme (BCFTP) who were directing BCI farm-level investments, were aligned that BCI's mission must be to engage in challenging regions, including complex political environments, and be a force for good in delivering improved well-being to people and planet.
Throughout the pilot-year, the BCI Secretariat reported back progress to both the Council and other relevant stakeholders who reviewed the reports coming from the pilot and carefully assessed the risks associated with XPCC Cotton & Linen Company and the region as a whole. At the end of the pilot year, the BCI Council determined that XPCC Cotton & Linen. Company had successfully implemented the Better Cotton Standard System in compliance with our requirements. Beyond BCI's standard risk management and assurance activities, one additional condition to continue forward with the partnership was the addition of a specific risk registry to continue monitoring adherence to Better Cotton Principles.
During the past 24 months, XPCC Cotton & Linen Company has been undergoing a significant restructuring. The re-organisation resulted in sweeping changes in internal management systems and altering approaches to working at farm level but also challenges in implementing the Better Cotton Standard System in line with our requirements related to Principle 7 – Internal Management Systems. As a result, BCI terminated the Implementing Partner Agreement effective 16 October 2019.
Huafu
In March 2019, the Wall Street Journal contacted BCI and alleged that a BCI Supplier and Manufacturer Member, Huafu, was involved in forced labour practices. BCI reached out to Huafu for a response, and they denied the allegations. Regular supply chain monitoring, beyond confirmation that our chain of custody requirements are met, is outside of BCI's scope as we are a farm-level standard. Nonetheless, forced labour is incompatible with BCI's values. All BCI Members – including suppliers and manufacturers, and retailers and brands – must adhere to the Membership Code of Practice, which requires members to act responsibly and to be transparent in their communications with BCI. Huafu subsequently commissioned an independent social compliance audit at their Aksu facility in Xinjiang. They shared the results of the audit with BCI and with their customers. The audit did not identify any instances of forced labour.
We are conscious that the ability to conduct effective due diligence in the region, in general, is being called into question. We are continuously monitoring the situation and reviewing new information as it becomes available. BCI will continue to keep members updated.