Become a Member
Become a BCI Member and join a global community committed to making cotton production better for the environment it grows in, better for the people who grow it and better for the sector's future. As of November 2020, BCI has over 2,000 members spanning five membership categories that represent the cotton sector.
Select the relevant membership category below, for more details about how to join the largest cotton sustainability programme in the world.
Civil Society: any not-for-profit organisation which serves the public interest and common good related to the cotton supply chain.
Producer Organisations: any organisation that works with or represents cotton producers, i.e. cotton farmers and farm workers. Farmers are never required to become BCI Members and pay fees, they can simply become a licensed BCI Farmer. Click here to find the farmer licensing details per country.
Suppliers and Manufacturers: any commercial organisation within the cotton supply chain beyond the farm gate and before retail, from buying, selling, and financing to processing. This includes ginners, spinners, mills, cut and sew and cotton traders.
Retailers and Brands: any consumer facing commercial organisation, including apparel, home, travel and leisure.
Associate Membership: organisations that do not fit into any of these categories but have an invested interest in supporting Better Cotton.
Benefits of BCI Membership
1. Lead on cotton sustainability:
Address social, environmental and economic issues collectively, and in multi-stakeholder dialogue.
2. Manage reputational risks:
Support better environmental practices.
Support better livelihoods and working conditions for farmers and farm workers.
Become part of a global initiative securing a more sustainable future for the cotton sector.
3. Access global supply:
Source Better Cotton from diverse global regions. Better Cotton currently accounts for 22% of total global cotton production (as of the 2018-19 cotton season).
4. Make credible claims:
Access the Better Cotton Platform to report your sourcing as Better Cotton and make verifiable claims on and off product.
Access project data and compelling real-life stories from farmers for your communications and marketing initiatives.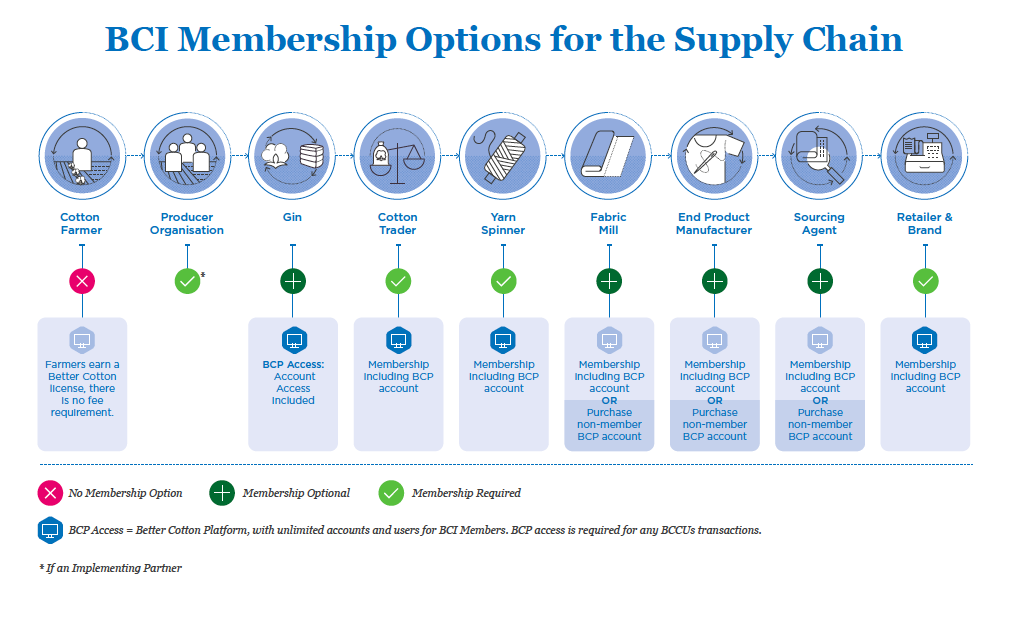 More information about membership commitments:
BCI Code of Practice for Commercial Members and Non-Commercial Members.
Click here for the list of current BCI Members.