Logo downloads
Click on the following links to download the BCI logo:
GUIDELINES FOR USE
Sizing: the minimum width of the logo should be 25mm. The logo should be enlarged or reduced proportionally, without distortion, and used in its entirety.
Clearance: the minimum clearance on all sides should be the width of the capital letter 'I' of 'BCI'.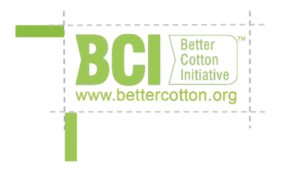 Colour ways:

Only use the BCI logo in the colours provided.
Use On-Product: Members wishing to use the logo in the form of the BCI On-Product Mark must consult the Claims Framework, On-Product Mark User Guide and seek approval from BCI.
Elements of the logo when used in the form of the On-Product Mark:
» Logo: this shape forms the graphic part of the mark and is the BCI corporate logo.
» URL www.bettercotton.org: The BCI website address must always be displayed in the form included in the mark.
» TM: the mark must be directly accompanied by a TM mark. The letters TM indicate that this is a trademark. Registration of the trademark is pre-approved in a number of countries
Trademark:
Countries where and articles under which the BCI logo is registered as a protected trademark: Registered in Switzerland holding Swiss trademark n° 609720 under classes: 16 / 20 / 23 / 25 / 27 / 41 / 42
Protection via WIPO "Madrid System" to: European Union USA South Korea Japan China