Logo downloads
Click on the following links to download the BCI logo:
GUIDELINES FOR USE
Authorisation: Only BCI Members and Partners (this does not include BCI Tracer Users) are authorised to use the BCI logo as marketing collateral.
Sizing: the minimum width of the logo should be 25mm. The logo should be enlarged or reduced proportionally, without distortion, and used in its entirety.
Clearance: The minimum clearance around every edge of the mark is the width of the letter 'I' in 'BCI' excluding the TM mark and the tail of the letter 'g' in 'www.bettercotton.org'.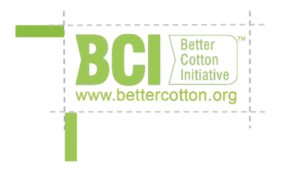 Colour ways: Only use the BCI logo in the colours provided:
BCI green: R141 G198 B64, or C50 M1 Y98 K0, or Hex #8DC640, or Pantone Solid Coated 368 C
Black: when the mark is printed in black it must be clearly visible, i.e. not used on an existing dark background.
White: for use on dark backgrounds.
Use of the colour green as a background or design feature: Whilst we do not, under every circumstance, enforce the use of BCI green on Members' communications, we reserve the right to request its use where the use of another, similar green causes brand confusion. This decision will be made at the BCI's discretion .
Use On-Product: Members wishing to use the logo in the form of the BCI On-Product Mark must consult the Claims Framework, On-Product Mark User Guide and seek approval from BCI.
Elements of the logo when used in the form of the On-Product Mark:
Logo: this shape forms the graphic part of the mark and is the BCI corporate logo.
URL www.bettercotton.org: The BCI website address must always be displayed in the form included in the mark.
TM: the mark must be directly accompanied by a TM mark. The letters TM indicate that this is a trademark. Registration of the trademark is pre-approved in a number of countries
Trademark:
Countries where and articles under which the BCI logo is registered as a protected trademark: Registered in Switzerland holding Swiss trademark n° 609720 under classes: 16 / 20 / 23 / 25 / 27 / 41 / 42
Protection via WIPO "Madrid System" to: European Union USA South Korea Japan China.