Senegal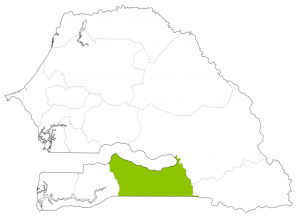 *No Better Cotton was produced in Senegal in the 2016-17 season.
The cotton industry in Senegal accounts for 2% of the country's GDP and 5% of export earnings. The industry is mainly concentrated in the regions of Eastern Senegal and Upper Casamance. Cotton cultivation reached a record production of 52,421 Metric Tonnes (MT) in 2007. Since then, cotton yields and farmer incomes have been declining due to a combination of poor practices, rising costs and institutional difficulties. Production was just 28,900 MT in 2013.
Who grows Better Cotton?
In their first harvest in 2014, 3,600 BCI Farmers from Senegal's Kolda region produced around 1,200 MT of Better Cotton  lint on 3,000 hectares. BCI started working in there in July 2013, and the region accounts for 25% of cotton production in Senegal; covering the administrative departments of Kolda, Medina Yoro Foula and Bounkling. Kolda is considered Senegal's poorest region with a poverty rate of 57.8% against a national average of 32.7%.
The Agriculture Sector plays a strategic role in the region's economic and social development. BCI is aiming to reach more than 10,000 farmers and 6,000 workers (mainly women and young people), in Senegal.
Who are BCI's Partners in Senegal?
In Senegal, BCI's implementing partner is the Société de Développement des Fibres Textiles (SODEFITEX). The National Federation of Cotton Producers (FNPC) works with SODEFITEX on a local level to conduct important field work. These partners work under the supervision of BCI's regional strategic partner, the Association of African Cotton Producers (AProCA) to provide training to farmers in Senegal.
When is cotton grown in Senegal?
In Senegal, cotton is sown from June to July and harvested from October to December.
For the most up to date information and more data from the Better Cotton harvest in Brazil, please refer to our most recent Harvest Report.