Pakistan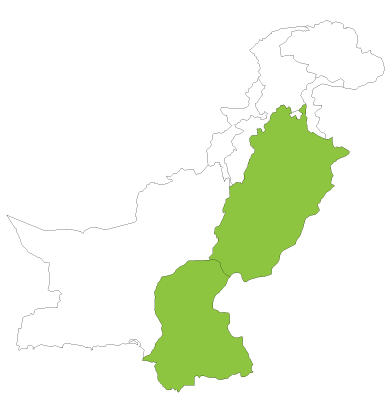 Pakistan is the fourth largest producer of cotton in the world, and importantly also holds the third largest spinning capacity in Asia (after China and India) with thousands of ginning and spinning units producing textile products from cotton. Approximately 1.5 million smallholder farmers rely on cotton for a living.
Cotton is the country's most widely cultivated crop and an important raw material for its growing textiles industry, representing 8.5% of GDP*. In a bid to further improve its export volumes the Pakistani government launched Cotton Vision 2015: a drive to boost production to 20 million bales in four years.
However, as cotton farmers contend with the effects of extreme weather and pest outbreaks damaging the crops, the future of Pakistan's cotton production will depend on men and women playing an equal role in fighting climate change and promoting sustainable farming practices.
Who grows Better Cotton?
In the 2016-17 season, 90,441 licensed BCI Farmers in Pakistan produced 316,000 metric tonnes of Better Cotton lint on 359,000 hectares.
Who are BCI's Implementing Partners in Pakistan?
BCI works with WWF-Pakistan, Lok Sanjh Foundation, CABI and Rural Education Economic and Education Development Society (REEDs).
When is cotton grown in Pakistan?
In Pakistan, cotton is sown from March to June and harvested from October to February.
Stories from the Field
Find out how a female BCI Farmer overcame gender bias and became a role model in her community. Read more.
For the most up to date information and more data from the Better Cotton harvest in Pakistan, please refer to our most recent Harvest Report.
*All Pakistan Textile Mills Association