Pakistan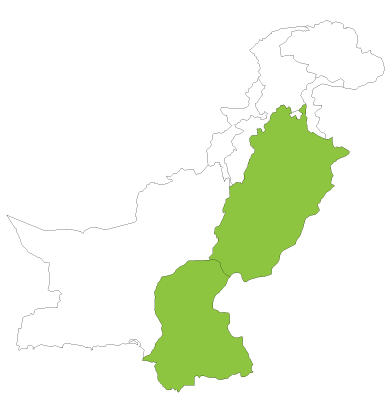 Pakistan is the fourth largest producer of cotton in the world, and importantly also holds the third largest spinning capacity in Asia (after China and India) with thousands of ginning and spinning units producing textile products from cotton. In a bid to further improve its export volumes the Pakistani government has also launched Cotton Vision 2015: a drive to boost production to 20 million bales in the next four years. For global supply and demand of Better Cotton in the future, Pakistan is a key strategic country and BCI have established a regional office to proactively manage the Better Cotton relationships in the country, as well as oversee the production going on at field level.
Who grows Better Cotton?
In 2014, 102,000 BCI Farmers produced 310,000MT of Better Cotton lint on 353,000 hectares. Most of the BCI Farmers who WWF-Pakistan works with are smallholders.
Who are BCI's Implementing Partners in Pakistan?
BCI works with WWF-Pakistan, Lok Sanjh Foundation, CABI and Rural Education Economic and Education Development Society (REEDs).
When is cotton grown in Pakistan?
In Pakistan, cotton is sown from March to June and harvested from October to February.
For the most up to date information and more data from the Better Cotton harvest in Pakistan, please refer to our most recent Harvest Report.