India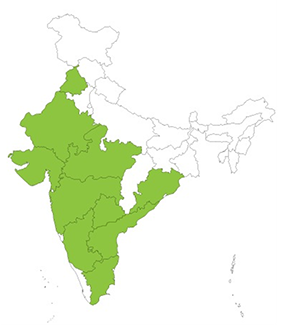 India has been producing cotton for textiles for thousands of years and the textile industry and agriculture are the key industries to have generated huge employment for both skilled and unskilled labour, helping to strengthen the country's economy. The cotton sector is considered to be the second most developed sector in the textile industry (after man-made fibres), and India is now the second largest producer of cotton in the world (after China), producing around 18% of the world's cotton. It also has the largest area under cotton cultivation in the world, representing about 25% of the world area under cotton cultivation. For Better Cotton to become a sustainable mainstream commodity, it is vital that BCI continue to work closely with the Indian Better Cotton supply chain as our membership base continues to grow, to give all members access to this significant market.
Who grows Better Cotton?
In the 2016-17 season, 303,886 licensed BCI Farmers in India produced 325,000 metric tonnes of Better Cotton lint on 501,000 hectares.
Who are BCI's Implementing Partners in India?
BCI's Implementing Partners in India are: ACF (Ambuja Cement Foundation); AFPRO (Action for Food Production); Arvind; Cotton Connect; MYKAPS; Solidaridad; WWF-India, Abishek Industries/ Trident Group, Action for Social Advancement (ASA), Dilasa Janvikas Foundation, Mahima Fibres, PRDIS, Pratibha Syntex, Spectrum International, We Care Society, Deshpande Foundation, Anandi Ecofarms and CAIM.
When is cotton grown in India?
In India, cotton is sown from March to September and harvested from October to February, depending on the local conditions.
For the most up to date information and more data from the Better Cotton harvest in India, please refer to our most recent Harvest Report.