Regions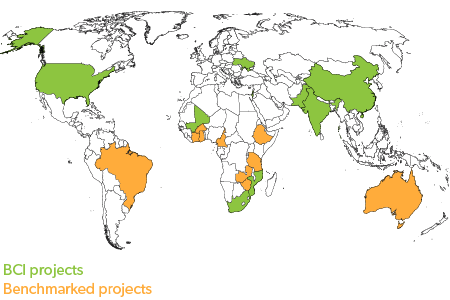 The first licensed Better Cotton harvest took place in Brazil, India, Mali and Pakistan during the 2010 – 11 season.
In the following years, other countries joined BCI and started producing Better Cotton, namely China in 2012 – 13, and Mozambique, Tajikistan and Turkey in 2013 – 14. The 2013 – 14 season  was also characterised by the launch of the first Benchmarked Project established with Cotton Made in Africa involving 10 African countries.
2014  saw the transformation of the project in Brazil into a second Benchmarked Project and the formulation of a third one in Australia. During the same season, two additional projects were implemented in Senegal and in the USA.
In 2015, the first licensed Better Cotton harvest took place in Israel, seeing 100% of Israeli cotton farmers producing Better Cotton.
We expect projects to kick off in South Africa during the current 2015 – 16 cotton season.
Whilst the need for expansion is great, we work hard to balance these efforts with giving our existing projects the attention they deserve. Please visit the country pages in this section to see what we are doing around the globe.